As an Amazon Associate I earn from qualifying purchases. I have a similar affiliate relationship with Barnes & Noble, Ticketmaster, StubHub & GoldStar.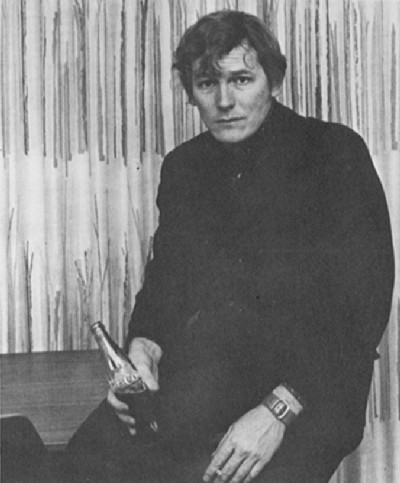 All photos ©1968 by Wilfrid Laurier Student Publications, from their Keystone '68 Yearbook. Lightfoot performed there in early January 1968.
Probably the first recording that captures Lightfoot's unique singing style, and which also showcases his beautiful voice, was on the live album Two Tones At The Village Corner (Canatel/Chateau, 1962. His partner in the duo, Terry Whelan, introduces "Gordie" for this song, Dark As A Dungeon (MP3 clip from my record), a folk standard that has been recorded frequently over the years, but probably never so beautifully as this.
This song was a turning point for him, at least as I see it. It's the first example of what became his unique singing style; nothing like any of the other songs on the record. And it's the first recording of him playing Travis style, which would become one of his trademarks. This picking style was originated by Merle Travis - who wrote "Dark as a Dungeon". Many guitarists use Travis style for at least some of their songs, but I have yet to hear anyone who plays it as Gordon does. (Merle Travis is one of a handful of players whom Lightfoot acknowledges as an influence; others include Ian Tyson and Bob Gibson). Lightfoot's version of "Dungeon" made an impact on others, not the least of whom is Bob Dylan, who performed it one night at Rolling Thunder in Toronto when Lightfoot was there as a performing guest. Bob dedicated the song to Lightfoot; listen, and you will understand why. (Note: the MP3 album is clearly what people in the industry refer to as "needle drop"; literally recording from a record on a turntable, rather than using the master tapes of the original record or some level of production tapes. The record this was made from was far worse than mine, but it's "essential Lightfoot", and nothing better is available). NOTE: At this time (5/2018), the MP3 album is no longer available. I guess it's time to dust off our old turntables and spin a copy of the record.
Three years later, in 1965, he is captured in a live concert which - luckily for his devoted fans - has been available in the shadowy bootleg world. Every song from that concert is a treasure, but one - never released on an official album or single - is one of Lightfoot's best unrecorded songs. The song is Echoes Of Heroes. If that song doesn't give you chills, you're visiting the wrong web site. Read more about his very early years here.
Lightfoot's first solo album, released in 1966 by United Artists, was titled simply Lightfoot! It contained his first recordings of three songs which, recorded by other established artists, brought him to the forefront as a songwriter: Ribbon Of Darkness, Early Mornin' Rain and For Lovin' Me. He re-recorded these three songs, as well as others, for his 1975 Gord's Gold album, but the original recordings are beautiful too and give you a taste of his musical style during that period.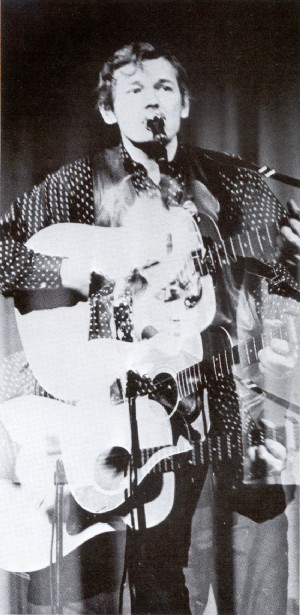 Ribbon Of Darkness
was one of the first Lightfoot songs to chart in the U.S., when a wonderful recording by Marty Robbins reached Billboard #1 on the Country charts. Robbins commented in his album notes that he sang the song in Lightfoot's style, based on the demo which undoubtedly sounded very much like this clip.
Early Mornin' Rain
was recorded by Ian and Sylvia and, in the U.S., by Peter, Paul and Mary. This song has become a folk standard, and has been recorded many times over the years, by many great artists including Elvis Presley and Bob Dylan.
For Lovin' Me
was also recorded by Ian and Sylvia, Peter, Paul and Mary, and Elvis. In recent years, Lightfoot has said that the song is a bit chauvinistic, and that he probably would not have written it had Bob Dylan not first written his Don't Think Twice.
Lightfoot released three more studio albums while at United Artists: The Way I Feel, Did She Mention My Name and Back Here On Earth. All of these albums had songs which were to become Lightfoot classics, including Song For A Winter's Night and Canadian Railroad Trilogy from the first, The Last Time I Saw Her and Did She Mention My Name from the second, and Bittergreen from the third.
The four studio albums are available on one CD, United Artists Collection, which I have in my store here.
His last album for United Artists was a live album called Sunday Concert, recorded at Massey Hall in Toronto in March, 1969. This is still the only live Lightfoot album ever released, other than bootlegs. Some of the songs on this album were never recorded in the studio. One of these almost lost masterpieces is
Ballad Of Yarmouth Castle
his first song about a real shipwreck and as magnificent as his much more well known ballad Wreck Of The Edmund Fitzgerald.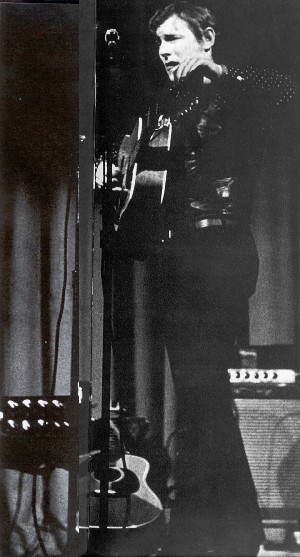 All of the clips of songs from the five United Artists albums were taken from the three Bear Family reissues: Lightfoot! - The Way I Feel, Did She Mention My Name - Back Here On Earth Plus, and Sunday Concert Plus. The last two albums contain bonus tracks. Spin, Spin is one of the more delightful of these bonus tracks. It appears, in two different versions, on both the second and third Bear Family albums; the clip here is from the Sunday Concert Plus album. The song was released previously only as a single.
The live Sunday Concert album closed out Lightfoot's United Artists period and closed out the 60s, a period during which Lightfoot was known primarily as a songwriter. His music was country and folk, the arrangements were sparse for the most part, and on some songs he overdubbed harmony vocals. And he wrote about ... well, he wrote about everything: political issues, love and love lost, Canada, the outdoors, ships and the sea; nothing escaped his notice or his artistry. He had already had a dramatic impact on the music scene, as many well known singers covered his songs and got them onto the charts in the U.S. During the next decade he would make his presence known on those charts as a singer.
Visit the albums page for more information about CDs which contain the United Artists recordings.
---
This article is copyrighted by
Valerie L. Shainin
. Any publication or reproduction is strictly prohibited unless permission is obtained from the copyright holder.
---
IT infrastructure advisory and support services / Web sites / online stores by Valerie Magee of

&nbsp
Darien Cheese Francos Wine Merchants Harlan Estate & Bond Wines Len Goldstein Corporate and Business Law Denver



More music and musicians: Steve Gillette's Songwriter Website, Rick Dougherty, Huxtable, Christensen & Hood, Chad Mitchell Trio (hosting, maillng list, store), David Rea, Robin Batteau (Hosting & Email List), Rob Carlson & Benefit Street (Hosting, Email List, Store), Modern Man (store only; Rob is also the author of The Palatine Ship), Steve Goodman Biography, The Brothers Four, Steve Gillette & Cindy Mangsen (Cat Tales (Cat Songs), Steve Gillette's The Man), Fourtold, Bob Warren, World Folk Music Association (hosting, store), Hamilton Camp, Bob Gibson - Yes I See, Michael Jerling, Michael Jerling's Fool's Hill Music, Mike Quick, Doug Irving, Cathy Cowette, Spare Parts (Waltz Sheet Music, Civil War Music, Tango Music, English Country Dance Music, Old Tango Music CD, store)



©1998-2022 by Valerie Magee Privacy Policy / Legal