Early Lightfoot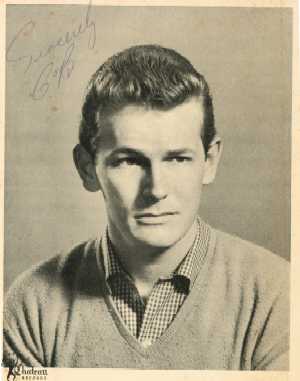 The earliest available recordings are from 1962. In January, he recorded a live album, performing with his high school friend Terry Whelan in a duo called the Two Tones. The album, called Two Tones At The Village Corner, was released on two record labels, Chateau and Canatel. Most of the songs are international folk, including standards such as The Fox, Copper Kettle and Kilgarry Mountain, but Lightfoot included one original ("This Is My Song"), and also a Merle Travis song called "Dark As A Dungeon,"
Listen to the clip of "Dark as a Dungeon." That's his partner, Terry Whelan, introducing "Gordie". The original song, however is nothing like those he would be writing and performing a year and a half later, but his vocals on the Travis standard were very much in the "Lightfoot style". And, lest you think that I am overrating his performance of the song, Bob Dylan thought the same. We know that because Bob performed the same song at one of the Toronto "Rolling Thunder" concerts, where Gordon was his guest performer. In his intro to the song, Bob paid tribute to Gordon.
See the Two Tones At The Village Corner album page for the track listing.
The Two Tones also released a single with two other songs (again, not original songs).
This album was available for download for several years, but is not available at this time. I am hoping that it will again be made available and will post about it if that happens.
Also in 1962, Lightfoot recorded 11 songs in the studio; they were eventually released on records, 10 of them on the AME album Early Lightfoot, released in 1971. There were five singles, some released in the 60s (four I believe), and one released in 1971 at about the same time that the LP Early Lightfoot was released. The singles were released on Chateau in Canada, ABC in the US, Fontana and Decca in the UK, and Viking in New Zealand. The first two songs on Songbook were singles; Remember Me (I'm The One) was paired with Daisy Doo and It's Too Late, He Wins with Negotiations (not by Lightfoot). Another single had Adios, Adios (under another name); the fourth had Day Before Yesterday (also not by Lightfoot, and the one that was not on the AME LP); and the last had a studio recording of his original song, This Is My Song.
Of these eleven songs, seven were written by Lightfoot.
What I find most incredible is the dramatic change in Lightfoot's style, from these recordings in 1962, to what he was writing and performing by 1963. One of the early songs in "Lightfoot style" is Echoes Of Heroes (You Tube, audio only). He performed that song in May, 1965 at La Cave in Cleveland (thanks to Joey McGowan for the correction), and that recording is one of those that Koala put out on one of their two bootlegs in 1979. Echoes Of Heroes is on Get Together (the other LP is called Yellow Bird). It's a protest song, and the sound and lyrics are very much "Lightfoot style". I know he doesn't think much of the song (he says so in Eric Greenberg's interview elsewhere at this site), and no it isn't quite a Don Quixote or a Sit Down Young Stranger, but it's still a very beautiful song as far as I'm concerned. At La Cave, Lightfoot said he wrote the song a year and a half earlier, so that would place it in late 1963.
From what is probably a bootleg recording, we can hear Lightfoot performing live in 1967 or 1968 on these iTunes song downloads: Live Gordon Lightfoot 1960s.
---
This article is copyrighted by Valerie L. Shainin, and is still being revised. Any publication or reproduction is strictly prohibited unless permission is obtained from the copyright holder.


---
IT infrastructure advisory and support services / Web sites / online stores by Valerie Magee of

&nbsp
Darien Cheese Francos Wine Merchants Harlan Estate & Bond Wines Len Goldstein Corporate and Business Law Denver


Another Folk Artist: Bob Dylan
More music and musicians: Steve Gillette's Songwriter Website, Rick Dougherty, Huxtable, Christensen & Hood, Chad Mitchell Trio (hosting, maillng list, store), David Rea, Robin Batteau (Hosting & Email List), Rob Carlson & Benefit Street (Hosting, Email List, Store), Modern Man (store only; Rob is also the author of The Palatine Ship), Steve Goodman Biography, The Brothers Four, Steve Gillette & Cindy Mangsen (Cat Tales (Cat Songs), Steve Gillette's The Man), Fourtold, Bob Warren, World Folk Music Association (hosting, store), Hamilton Camp, Bob Gibson - Yes I See, Michael Jerling, Michael Jerling's Fool's Hill Music, Mike Quick, Doug Irving, Cathy Cowette, Spare Parts (Waltz Sheet Music, Civil War Music, Tango Music, English Country Dance Music, Old Tango Music CD, store)



©1998-2022 by Valerie Magee Privacy Policy / Legal