Gordon Lightfoot News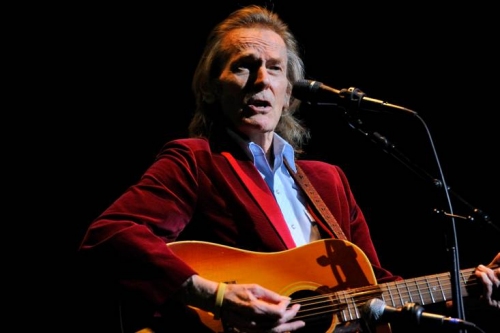 Minor Leg Injury Causes Postponement of July Concerts
(July 22, 2019) - The shows on July 20th, 21st and 22nd have been postponed due to a leg injury (Gord) and - based on a news story today (7/22) - it appears that all the July dates are similarly postponed. Lightfoot expects to resume touring in September. You can read the news story here.
Gordon Stops in & Sings a Song at 2019 Mariposa Folk Festival
(July 9, 2019) - Gordon stopped in at the 2019 Mariposa Folk Festival on Saturday, and sang one song. Watch this 57 second clip from that performance. He looks and sounds great! Which I could have been there.
Review: "Lightfoot" by Nicholas Jennings
September 19, 2017 — There's no reason to keep you in suspense; the new biography "Lightfoot," by Nicholas Jennings, about the life and career of singer/songwriter Gordon Lightfoot is nothing short of fantastic. Given Jennings' credentials, that is exactly what I expected.
Described as "the definitive, full-access story of the life and songs of Canada's legendary troubadour," the book is all that and more. Nicholas Jennings is uniquely qualified to write an authoritative biography of Lightfoot. He is a well-respected music historian, who has already written the definitive book on Canadian music in the 1960s when Lightfoot came on the scene. That book, "Before the Gold Rush — Flashbacks to the Dawn of the Canadian Sound" (out of print) was was the basis for the documentary, "Shakin' All Over: Canadian Pop Music in the 1960s," on DVD but possibly also out of print (read DVD description here). In addition, Jennings wrote a biography of Lightfoot for the 1999 box set Songbook, and wrote liner notes or reviews for other albums. He already knew his subject very well and had his confidence, so a full biography was the logical next step.
The book was released by Penguin Random House on Tuesday, September 26th, and is in stock at Amazon US, Amazon Canada and Amazon UK. A paperback version will be released on October 30th, 2018.
Additional Amazon links:
Buy Kindle version at Amazon.com Buy Audiobook version at Amazon.com (Check for Audible trial) Buy hardcover at Amazon.ca Buy hardcover at Amazon.co.uk.
Full Review
The author concentrates on the singer/songwriter's music career, as he should, but he doesn't shy away from filling in many of the blanks in the published accounts of the personal life of this highly private man. His childhood, marriages, other romances, battle with alcohol, and health issues were all covered in considerable detail, as were his entry into music, the development of his career, the people who supported him through the years, the accolades, giving back, and just about everything that figured in the story of his life. Like most of us, Lightfoot isn't proud of everything he has done throughout his life. He freely admits today that he made some serious mistakes, but he certainly isn't alone in doing that.
Jennings covers Lightfoot's life from childhood to the present; the sensitive topics are handled professionally and thoughtfully, but nobody will say that he tiptoed around certain topics, nor that he missed something important to the story of this great singer/songwriter and Canadian icon. Already a chronicler of Canadian music going back to the 1960s, the author knew going in what details he needed to learn to weave a complete tapestry. In addition, he had already reviewed several Lightfoot albums, and written a short bio for the Songbook box set, so I had no doubt that he would write the long version equally well.
I received a copy of the book from the publisher.
Review © 2017 by Valerie Magee
CTV Interview of Lightfoot May 2019
Highlights: Stopped smoking & new album!
The film they are talking about is Gordon Lightfoot: If You Could Read My Mind, a CBC Docs original. It has been released theatrically in Canada and will air on CBC and the documentary Channel (also in Canada) in late 2019. As of now, there is no word about a U.S. or interntational release, or the release of a video. If there is further news on this, it will be reflected here. Note: If you are in an EU country, you must consent to cookies in order to watch the video interview below.
You must allow ads to view this video which is preceded by 3 ads. Do not click on the video if you don't want to see ads.
---
"The Lost Tapes," New Ian & Sylvia Live Recordings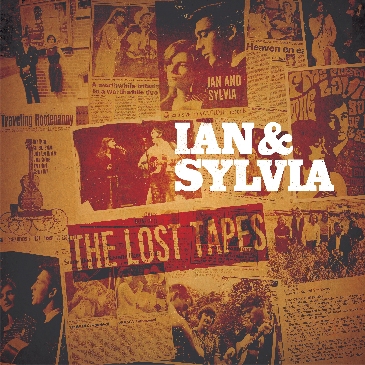 July 24, 2019 — "The Lost Tapes," from Ian Tyson & Sylvia Tyson, is a live album recorded in the early 70s with a studio audience and made from tapes that Sylvia just discovered early this year. This 2 disk collection will feature thirteen classics including Steve Gillette & Tom Campbell's "Darcy Farrow", and thirteen songs never before included on any Ian & Sylvia album. The collection is due September 6th. You can preorder "The Lost Tapes" from Amazon now.

Biography of Ian & Sylvia, "Four Strong Winds" available
February 13,2012 — In the Fall of 2011, McClelland & Stewart published the first biography of the Canandian duo of Ian & Sylvia; previously, there had been biographies of Ian Tyson, including his autobiography, but this was the first time that a book was written about the pair and it was written with their full cooperation. I had first heard about the book from David Rea who was interviewed at length for it, and mentioned his phone calls with the author on multiple occasions.
I expected the book, "Four Strong Winds Ian & Sylvia by John Einarson with Ian Tyson & Sylvia Tyson" (Amazon.com link), to be an enjoyable read for me because I am interested in the musical history of the period (1960s/early 1970s), because I love their music (I discovered them because of Lightfoot's gratitude and respect for them), and because I knew that there would be a lot about my late friend David Rea, and surely something about Lightfoot. I wasn't disappointed.
Additional Amazon links: Amazon.com (Kindle) link, Amazon.ca link and Amazon.co.uk link.
Imagine my delight when I read the first few pages which talked about Ian & Sylvia's debut headlining appearance at Town Hall in NYC, extolling its acoustics and importance. It has long been one of my favorite venues; not only have I seen Lightfoot there (read review here), but I performed there as a child ballerina, and they are a client of mine today, so there is a lot of personal connection. In his introduction focusing on that Town Hall appearance, Einarson went on to say that Ian & Sylvia debuted three cover songs at that concert: two by Lightfoot (Early Mornin' Rain and For Lovin' Me), and one by my friend Steve Gillette (Darcy Farrow). Ian & Sylvia were the first to record those songs, and those recordings opened many doors for their songwriters.
Four Strong Winds - Review
The book is very much the story of the duo, but with enough on their lives earlier (and as children), and after they broke up (musically and personally, although the musical connection actually outlasted the personal) to put the duo's biography in context. I learned a lot about them that I didn't know, as my knowledge was limited to their early recordings, and the time that David was with them (and most of that from David).
I had first learned about them because I followed Lightfoot, and I bought their CD with the two Lightfoot covers, Early Morning Rain, to hear their version. I later bought Northern Journey because it had Ian's recording of the traditional tune, Nova Scotia Farewell*, a song that Lightfoot played live in the 60s, and then on and off through the decades most recently in 1995. Lightfoot credited Tyson as an influence and friend, so I decided I would learn more about him. This biography, rich with stories and anecdotes from that period, went a long way toward filling in the musical blanks.
I received a copy of the book from the publisher.
*Nova Scotia Farewell remains a fan favorite - of both Ian Tyson fans and Gordon Lightfoot fans. In this biography, Ian says that he hates it, and Lightfoot hasn't performed it in more than 16 years!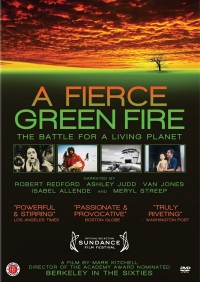 2012 Documentary Uses Lightfoot Recording
Thanks to singer/songwriter Rebecca Miner, I am now aware that a Lightfoot recording - but not an original song - was used in the 2012 documentary about the environmental movement. A Fierce Green Fire: The Battle for a Living Planet is an acclaimed Sundance documentary, and on a topic which Gord cares about, so the use of the song is very pleasant indeed.
And the song is by another songwriter who I knew. It's Hamilton Camp's "Pride of Man." The song is played in its entirety over the final credits!
I always loved that version of the song, and only heard Hamilton's version many years later. As I have said elsewhere, Gord is faithful to the feeling and folk style of the original, but Gord's is perhaps even more chilling than Hamilton's. Both really great, however.
The documentary is available on DVD: A Fierce Green Fire (DVD) and on instant video: A Fierce Green Fire (instant video) (both Amazon.com).
Rebecca contacted me through the Hamilton Camp's website, to find out the publisher of the song, so she can get a license it for her next CD. As far as I know, the only other covers are by Gene Clark and Quicksilver Messenger Service. Hamilton recorded it twice himself; the second recording is on his last CD, "Sweet Joy", released in 2005, shortly after his death. The first was on "Paths of Victory," sadly out of print.
Audiophile Vinyl Adventures After 2014 Record Store Day (Reviews)
May 29, 2014 — When the new audiophile 180 gram "Sundown" was announced earlier this year, I knew I wanted to hear it. There was just one problem: I don't have an audiophile system. In fact, I have no system at all (we listen to CDs and digital recordings through our TV, or on headphones). My son has the only working record player in the family, and he is 1800 miles away.
I thought about who I knew who might have an audiophile system, or know someone who does. I was lucky that a good friend just happens to know the owner of an independent record store, and he not only agreed to help out; he invited me to his home to listen with him.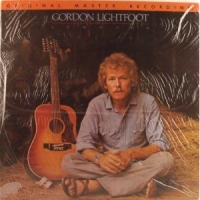 To make the experience even better, I had my son send me my sealed copy of the Mobile Fidelity Sound Labs recording of "Sundown", released in 1979. I had the album back then, but I had purchased a sealed copy for my collection. The opportunity to listen to different versions of the same album on high-end equipment was a once-in-a-lifetime thing, and a suitable situation for unsealing the album.
So, on the appointed day, two weeks after Record Store Day, my husband and I went off to visit, with the 2014 Record Store Day "Sundown," The 1979 MFSL "Sundown", the 2013 Record Store Day, "Sit Down Young Stranger" (which is the "If You Could Read My Mind" album under its original title), and the new album by Neil Young, "A Letter Home," which has two Lightfoot covers, and was recorded in a 1947 "record booth" (a lot like photo booths you find at state fairs and amusement parks), yet manufactured on 180 gram vinyl!
I received a copy of the RSD "Sundown" from the record label, Warner Canada; I bought the other recordings with my own money - and have no regrets.
Gordon Lightfoot Video Interview
February 12, 2014 — Here's a nice new video interview with Gord, at the Zoomer site: Conversations With Denise — Gordon Lightfoot.
A new, wonderful live cover of "Early Morning Rain" by Two Folk Music Legends
April 27, 2014 — This is a live video from a recent benefit concert for Don and Victoria Armstrong. I haven't met Don and Victoria personally, but there's a lovely album by them in the Fool's Hill Music store here. Below are Don's comments. I suppose it won't go unnoticed that this is a Lightfoot cover by members of two of the greatest folk bands in history!
Posted on Facebook by Don Armstrong : "Our pals Gaylan Taylor of the Limeliters & Bill Zorn of The Kingston Trio performing "Early Morning Rain" at the Fiddler's Dream Tribute to Don & Victoria Armstrong on April 19, 2014. My Mom would have loved this as much as I did."
Fantastic version, isn't it?
Neil Young Releases "Old Technology" Vinyl Album of Covers, called "A Letter Home"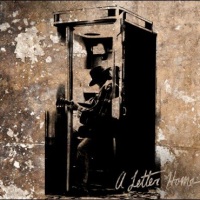 April 19, 2014, updated April 26 — On April 18th, Neil Young quietly released his promised "covers" album, without any fanfare. It's a vinyl release, using very old technology (see more below), and featuring 11 cover tunes, two of which are by Gordon Lightfoot. Neil has been performing both songs — "Early Mornin' Rain" and "If You Could Read My Mind" — in his live shows starting last Fall.

In addition to the two Lightfoot tunes, there are two by Willie Nelson, and one each by Phil Ochs, Bob Dylan, Bert Jansch, Tim Hardin, Ivory Joe Hunter, Bruce Springsteen and The Everly Brothers.

The record was recorded in the Third Man Record Booth; here's a video demonstrating it: Third Man Record Booth

The record appears to be sold out, but the CD, MP3 album and box set are available from Amazon: the LP (appears to be sold out), the format it was designed for, the CD, an MP3 album, or the Limited Edition Box Set with vinyl, CD, DVD and digital versions included. This album is also available from Amazon Canada (vinyl, search at Amazon Canada to other formats)

and Amazon UK (vinyl, search at Amazon UK to other formats).

Just remember: it was recorded in a "record booth" - and it sounds just like a bad record. But it is charming, and makes one wish that Neil would record these songs in a 2014 recording studio and release that too. I have the LP, and am happy to have it, but I really enjoy Neil's versions of these wonderful songs, and would like to hear him do them using today's technology.

Neil Young Dips Into Gordon Lightfoot's Catalogue Again

March 30, 2014/Last updated June 1, 2014 — Once again, fellow Canadian icon Neil Young has taken a page from Lightfoot's songbook, performing "If You Could Read My Mind", at recent shows. Many of you will remember that last Fall, Young performed "Early Morning Rain", at a Farm Aid show in Saratoga Springs (see next story). Here's a video of Neil performing "If You Could Read My Mind", on April 22, 2014:

Last last summer, Lightfoot replaced Young as the headliner at two festivals after Young was forced to cancel due to an injury suffered by his lead guitar player. Both musicians are icons in Canada, and clearly share mutual respect.

Neil Young Performs Early Mornin' Rain at Farm Aid 2013 in Saratoga Springs

September 22, 2013 — Last night at the Saratoga Performing Arts Center Farm Aid show, Neil Young tipped his hat to Gordon Lightfoot with a solo performance of the bard's Early Mornin' Rain. My son sent me a text message, "EMR second song after Blowin' In The Wind" (I wonder how many 20-somethings there knew the songwriters of both of those songs, or who would abbreviate the Lightfoot song as EMR?).

For Lightfoot fans who have followed the story, Neil's lead guitarist in Crazy Horse suffered a hand injury over the summer, and Neil cancelled a number of performances including those at two big festivals in Ontario. Lightfoot was asked to step in, and did so, and Neil expressed his appreciation to Lightfoot personally. Last night, Neil performed some songs with a few musicians, but not his full band, and he did some songs solo, including Early Mornin' Rain: just Neil, his guitar and harmonica (tempted to say, "harp", but I'm not sure all readers would know that jargon).

Unfortunately, I am back in Colorado so I couldn't enjoy it in person, but I am so pleased that my son decided to take in the show. Here's a video of the performance on You Tube:

Gordon Lightfoot Added to Line-up of Two Ontario Festivals

August 27, 2013 — Gordon Lightfoot has kindly agreed to step into the headlining role at two Ontario festivals, after Neil Young had to cancel due to his guitarist's hand injury. As a result, festival attendees will get to see another of Canada's great music legends.

The concerts are the Greenbelt Harvest Picnic in Dundas, ON on Saturday, August 31st, and the Ottawa Folk Festival in Ottawa, ON on Sunday, Septmember 8th. Links to event details and ticket purchase sites can be found in the tour schedule.

Neil has called Gordon to thank him for stepping in to help.

Gordon Lightfoot To Perform At The Canadian Football League Grey Cup Halftime Show Sunday, November 25th

November 24, 2012 — Gordon Lightfoot will be one of the featured performers at the halftime of the Grey Cup. It will be telecast live on TSN and RDS in Canada, and NBC Sports Network in the United States, and available to SiriusXM subscribers on Sirius channel 157 and XM channel 160.

Yes, folks, that's right! If you have satellite or most cable services, you will be able to watch this on TV in the US! The game starts at 6PM EST. As reported here, Lightfoot will perform an abbreviated version of Canadian Railroad Trilogy (see more above, in the Massey Hall story). Note to DirecTV subscribers: Don't panic when you don't see NBC Sports Network in its usual slot on 603; it has moved recently to 220. Yes, I panicked.

You can read the CFL's article on the scheduled entertainment here.

Eric Clapton releases 1977 recording of Looking At The Rain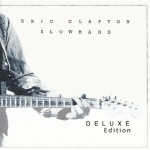 November 21, 2012 — Music legend Eric Clapton has included a 1977 recording of Gordon Lightfoot's Looking At The Rain on his 35th Anniversary Edition re-release of his most popular album, Slowhand. Looking At the Rain is one of four previously unreleased tracks on the new album, and it is the first single.

The song was recorded early in the Slowhand sessions, on May 6, 1977. What a treasure in the vault! It is faithful to the Lightfoot version in general style and mood, and the vocals are somewhat reminiscent of Lightfoot too. I am thrilled that Clapton chose to release this cover now, and hope it does well on the charts. The Lightfoot recording, on his 1972 album Don Quixote, was not released as a single.

It goes without saying that Clapton is one of the most highly regarded artists of his generation, as well as one of the top rated guitar players. The fact that he chose a Lightfoot song to record speaks volumes. The song is available for purchase here (MP3 at Amazon.com), but a Clapton CD is probably a good investment. The "Deluxe Edition" CD with the Lightfoot song can be ordered from Amazon.com, Amazon.ca and Amazon.co.uk. Both the "Deluxe" and "Super Deluxe" editions include the Lightfoot song.

Gordon Lightfoot Interviewed by Kate Lochte of WKMS 91.3 FM, Murray, KY

September 28, 2012 — Kate Lochte, Station Manager at WKMS 91.3 FM, Murray, KY, interviewed Lightfoot early this month for broadcast on the aptly named "Sounds Good", about a week before his September 27th concert in Paduca, KY. Kate got a wonderful interview, during which Lightfoot talked about his music, some of the stories behind it, and his children. (And no, I am not Galen's mother).

To listen to this interview now, sign-up for my mailing list, even if you are already on it; the MP3 link will be in the email acknowledgment message you will get today (and you will still be on the mailing list only once). The interview was made available on the station website, with the pre-concert story Meet Singer/Songwriter Gordon Lightfoot on Sounds Good.

Gordon Lightfoot on US Radio on September 1st

August 30, 2012 — While he is interviewed on Canadian radio and TV with some regularly these days, it is rare to hear a Lightfoot interview broadcast in the US. This interview was broadcast live Saturday, September 1st from 4 to 5pm EDT at www.wondradio.com from "The Steel Pier", itself rich with music history.

This show, on the air for decades, is broadcast from Atlantic City, NJ. Locally, the interview was broadcast on WOND 1400 AM.

September 1, 2012 — To download an MP3 of the interview, sign-up for my mailing list, even if you are already on it; the MP3 link will be in the email acknowledgment message you will get today (and you will still be on the mailing list only once).

Download Steve Gillette's Darcy Farrow





John Stockfish, Gordon Lightfoot's First Bass Player, Passes Away August 20th

September 1, 2012 — John Stockfish, Lightfoot's original bass player, passed away on August 20th. He was 69. His death was due to natural causes.

Stockfish joined Lightfoot in 1965 and toured with him and guitarist Red Shea through the late 1960s in what was known as "the Lightfoot trio". The pure acoustic sound of that trio still endures today on three of the four United Artist studio albums, The Way I Feel, Did She Mention My Name and Back Here On Earth, available on the 2 CD set United Artists Collection.

John, along with Red Shea and Lightfoot were memorialized forever in the tribute song Lightfoot
, written and recorded by "The Guess Who".

Although he left the band in early 1969, he remained in contact with Lightfoot and recorded with him on occasion after that including on the 1974 hit Sundown.

During his career, he worked with other performers including Dan Hill, Tommy Hunter, Cab Calloway, and Mel Tormé, and as a music publisher in Nashville.

A private family funeral was held on August 31st in Mississauga, Ontario.


Two Tones LP Released As An MP3 Album!

For anyone who has had "collecting fever", and the desire to own everything Lightfoot ever recorded, this MP3 album is a very welcome addition. Two Tones at the village corner is the first Lightfoot recording ever released, back in 1962; it's a duet album with his high school friend Terry Whelan.

Most of the songs are international folk, including standards such as The Fox, Copper Kettle and Kilgarry Mountain, but Lightfoot included one original (This Is My Song), and also a Merle Travis song called Dark As A Dungeon. While the rest of the album is very different from the familiar Lightfoot sound, his vocals on the Travis standard were very much in the "Lightfoot style". (The guitar playing is his first recorded song with "Travis picking", named for the writer of the song).

See the Two Tones album page for more details including the track listing, and the link to purchase the MP3 album. As a devoted fan, I am very happy that this recording is now available in digital form, after decades of frenzied collecting of the scarce LP. It is nice to be able to hear Lightfoot sing and play so early in his career; it just enables us to appreciate even more the great artist he became.

Fairport Convention new box set
Includes 4 newly released tracks with David Rea
including his song, "Maverick Child"
(and the three tracks following it on disk 4).

David Rea, "First" Lead Guitar Player for Lightfoot, Passes Away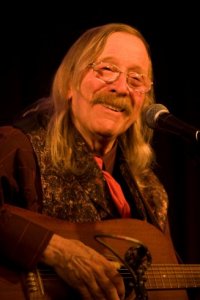 Photo by Jack Bawden ©2010

January 24, 2012 — A tribute concert for David Rea was held Sunday, January 29, 2012 at 6 pm at the Alberta Rose Theatre, 3000 NE Alberta Street, Portland, OR. It was a free event, attended by friends, family, other musicians and fans. (Read more)

October 29, 2011 — This is very difficult for me to write because I knew David; in fact, I developed a web site for him and it was only when I called him back in June to say that I was ready to launch, that I learned he had just been hospitalized. He had been ill throughout the summer, and passed away on Thursday, October 27th, the day after his 65th birthday.

From lead guitar player for Gordon Lightfoot, Ian & Sylvia, Joni Mitchell and others, to a singer/songwriter in his own right, David had had a long and rich career in music. He even had a hit song, having co-written Mississippi Queen, a hit for Mountain. Joni Mitchell literally sang his praises; she wrote and recorded a song about him called, "Play Little David".

David played lead guitar on Lightfoot's debut album, "Lightfoot!"; everyone recognizes his distinctive intro riff to For Lovin' Me (heard also at the end of this clip). He played some live shows with Lightfoot in the early years (1964/1965), before Lightfoot could afford fulltime sidemen - and he entertained me repeatedly with his funny stories about those days.

Gord would call him up and ask him if he could come do a gig with him, sometimes with no money for expenses, and they would crash on somebody's couch. David told me funny anecdotes that relate to those occasional shows that he did with Gord. Unfortunately, although I asked him about that time (and David remembered only anecdotes and actually couldn't say when he last played with Gord but thought it was probably 1965, as I had guessed), I didn't write anything down thinking that I would do a formal interview with David about Gord at some point in the future.

When Lightfoot! was finally released in 1966, and Gord was in a position to hire his first "band", David had already taken a full time job with Ian & Sylvia. In an interview with Richie Unterberger for the liner notes to the Ian & Sylvia Lovin' Sound/Full Circle reissue, Sylvia jokes,"'I don't know if Gordon's ever forgiven us for that."

Though I never met him in person, I feel that I knew him well; a phone call with him would go on for hours. Literally. He was a storyteller in his soul, and all his friends and fans benefited from that.

Check out his last album, X7 (Times Seven), released in 2000 (click on album name or see right). My favorite song on it is his wonderful cover of Ian Tyson's The Gift; David really made it his own (there's a clip on the X7 web page). And, please visit his new web site which I launched in his honor shortly after his death: David Rea Music.


1980 "Ghosts of Cape Horn" documentary film

September 23, 2011 — Another fan was looking for this film, and when he didn't find it he sent me an email. So, of course I looked for it for him, and - surprisingly - I found the entire film online at the National Sailing Hall of Fame website. I had never seen it before, but - like any devoted Lightfoot fan - knew that the song, "Ghosts of Cape Horn", had been written for the film, as its title song. The documentary tells the story of sailing vessels making the trip around Cape Horn, before the Panama Canal was built. Like any Lightfoot story song, the lyrics tell a complex story in just a few minutes. The film runs approximately 55 minutes.

The song was released on the 1980 album, Dream Street Rose (now available as part of a 2 CD/3 album set), on Gord's Gold Volume 2 (in the original version, not re-recorded), and also on the Songbook boxed set. The 2 CD set with Dream Street Rose, and Songbook are available in my store.

Here's the link to watch it: Ghosts of Cape Horn (film). Enjoy!

No DVD has been released ... I have suggested it ...



---
Terry Clements, Lead Guitar Player for Gordon Lightfoot for Four Decades, Passes Away
February 21, 2011, updated April 17th — Terry Clements, lead guitar player for Gordon Lightfoot for four decades, passed away on February 20th.
Clements suffered a stroke 10 days earlier, and had been in a coma. A special memorial service was held on April 10th in Toronto, attended by family, friends, bandmates, musician friends and fans. Ed Ringwald, aka Peewee Charles, recorded Amazing Grace especially for the memorial, a song which was a favorite to play for Terry and his family. If you'd like to hear Peewee's recording playing the dobro, with his good friend Shane Guse on fiddle, click here (mp3 file).
Lightfoot's first tour segment - starting March 15th - went on as scheduled, with a new lead player.

Read the full article here: Terry Clements, Gordon Lightfoot's Lead Guitar Player, Passes Away.

Gordon Lightfoot: Canadian Railroad Trilogy: Children's Book released in the US, Canada and the UK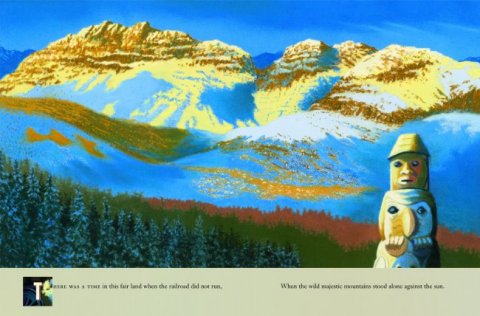 August 2, 2010 — A new hardcover children's book, featuring the lyrics of the epic Canadian Railroad Trilogy, and illustrations by renowned writer/artist Ian Wallace, has been released in the US, Canada, and the UK.

The new book is a true work of art from start to finish, and pays appropriate tribute to one of the most brilliant songs ever written. With stunning pastels each carefully conceived to illustrate a small section of the song, the book will be a treasured addition to the library of anyone with a love of art, music or history.Read my complete review here: Canadian Railroad Trilogy Children's Book.

The book is available from Amazon.com and Amazon.ca and, for those of you across the pond, from Amazon.co.uk.
---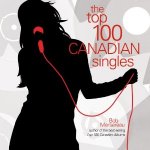 Lightfoot places 3 singles in top 20 in new book
Goose Lane has just published a new book by Bob Mercereau, The Top 100 Canadian Singles. Lightfoot placed three songs in the top 20: If You Could Read My Mind at #7, The Wreck of The Edmund Fitzgerald at #15, and Sundown at #19. That's a pretty good representation of his hit songs.
The top 20 songs are:
American Woman/No Sugar Tonight, The Guess Who
Heart of Gold, Neil Young
The Weight, The Band
Summer of '69, Bryan Adams
Hallelujah, Leonard Cohen
Born to be Wild, Steppenwolf
Takin' Care of Business, Bachman-Turner Overdrive
Four Strong Winds, Ian & Sylvia
Snowbird, Anne Murray
Big Yellow Taxi / Woodstock, Joni Mitchell
Tom Sawyer, Rush
Try, Blue Rodeo
New Orleans is Sinking, Tragically Hip
Suzanne, Leonard Cohen
Life is a Highway, Tom Cochrane
These Eyes, The Guess Who
Underwhelmed, Sloan
Mercereau is also the author of the book, The Top 100 Canadian Albums, reviewed here previously. I will say a lot more about the book once I receive my copy. It can be ordered now from both Amazon.com and Amazon.ca.
---



Toby Keith Covers Sundown!
Tune Is One of Four Covers on Deluxe Edition of his Upcoming CD, Bullets In The Gun

Toby Keith preceded his current American Ride Tour with an unexpected club show in New York City, and he's releasing his new album, Bullets In The Gun, in a Deluxe Edition which will add four live tracks from that show to the standard album.

Recorded during his "Incognito Bandito" show at The Fillmore in Manhattan, the four songs feature Keith on lead vocals backed by an A-list band of session players assembled exclusively for the rare club performance. The four covers are Johnny Paycheck's "11 Months And 29 Days," Waylon Jennings' "I've Been A Long Time Leaving (But I'll Be A Long Time Gone)," Roger Miller's "Chug-A-Lug" and Gordon Lightfoot's "Sundown". In a recent interview, Keith says of Sundown,

"We went to a rehearsal, and everybody kind of brought their favourite songs in and that Gordon Lightfoot song was on the list and I said, 'Absolutely, let's do that.' I put it on there 'cause it is a great song." - Canadian newspaper exclusive with QMI Agency

Bullets in the Gun was released on October 5th. Here's the video, which was initially posted at Amazon:

Be sure to note the lead guitar solos!

Again, to buy the CD at Amazon, click here: Bullets in the Gun. If you want to buy the Toby Keith recording of Sundown as an MP3, use the link here.

Forgive me if I get carried away here, but I consider this very exciting news. Toby Keith is one of the top country singers and top entertainers around, and the fact that he has chosen a Lightfoot song (and not a bad choice for a country tune, I might add), just might get that song on the charts again as a cover tune. Even if it isn't released as a single, it will surely introduce many new listeners to Lightfoot music.

---
The Cottars Cover Gordon Lightfoot Song on Latest CD, Feast

"Apart from the Pain, It's a Pleasure"

October 5, 2010 — About 6 months ago I received a review copy of a CD that has - quite honestly - blown me away. I asked for it because it included a Lightfoot cover, but as always I listened to the entire CD several times. And then I listened several more times. And then I found that I couldn't stop listening to it!

The CD is The Cottar's latest album, Feast (Amazon.com link, Amazon.ca link, , Amazon.co.uk link). The Cottars are a young quartet, actually in a 2nd configuration. Two of the performers, brother and sister, Ciaràn (vocals, piano, guitar, more) and Fiona MacGillivray (vocals, piano, more), were on the previous Cottars album; two are new on this album, Claire Pettit (vocals, fiddle, viola) and Bruce Timmins (vocals, guitars), a well-respected session player. But there is nothing "beginner-like" about this CD. Their music is a blend of Celtic, Cape Breton (where they are from), bluegrass and folk. The musicianship is nothing short of extraordinary; the vocals beautiful; the songwriting on their original tunes accomplished as well.

The Lightfoot cover that first caught my attention is of one of his less known tunes; a song called "Your Love's Return (Song for Stephen Foster)". It is, as the parenthetical portion of the title says, a tribute to Foster, in whose music Lightfoot had become interested at the time. It's a sentimental love song, very Foster-like.

The Cottars took this tune, with Fiona singing the lead vocals (not changing any lyrics which were written for a man to sing), added their own string arrangement and harmonies, and created something all their own yet faithful and respectful of the Lightfoot original. I am certain that Lightfoot is pleased with their cover, as he must be with the much more mainstream Toby Keith cover of "Sundown" (discussed elsewhere). Ciaràn is quoted in the liner notes as saying that the Lightfoot song just might be his favorite on the CD, and that is high praise as the disc is full of wonderful songs.

This article is excerpted from the full review here: The Cottars - Feast Review.

(I received a review copy of this CD from the artists).

---
An Interesting "Affair" (on 8th Avenue)
June 21, 2010 — Big News for the Dedicated Fan: The Gord's Gold version of Affair on 8th Avenue, never before available except on vinyl, is finally officially available in digital form. It is remastered and can be downloaded as an MP3 from Amazon or CD Universe. (If you buy from CD Universe, be sure to click on the "Buy MP3" button, or the "Buy MP3 Album" button when you buy; do not click on song names or you will be taken to a page with the earlier recordings!).
Remember, the CD of Gord's Gold does not include Affair on 8th Avenue because at the time the album was first reissued on CD, the time limit was 74 minutes including gaps and the album was just over that.
The Gord's Gold version of the song is in the more elaborate 1970s style of all the re-recorded songs on that album. Most Lightfoot fans prefer the re-recording (not true of all the songs, but it is of this one), and have missed having it all these year, making do with vinyl-to-digital copies they made themselves or found online. The new MP3, available on the official Gord's Gold digital album, is the first high quality, remastered version of this lovely recording.
Amazon Faux Pas: Amazon was the first to offer the new MP3 album for sale, but they had more than a half dozen incorrect tracks, using an earlier version of many of the songs thate were re-recorded (that is, they used a United Artists version, from the 1960s, either the original recording or the live cut from Sunday Concert). I reported the problem to them (with great difficulty, I might add), and their eventual response was to pull the album entirely - clearly easier than fixing their files. Thankfully, the new song and the entire album remained downloadable from CD Universe during the months that Amazon did not have it available (it is now available from Amazon again). You can read the details of the Amazon fiasco here.

"... there's always the possibility of making a new album"
February 27, 2010 — A week after a reporting fiasco erroneously declared Gordon Lightfoot dead, Spartanburg Herald-Journal reporter Todd Money contributed a fine interview, conducted shortly before the death report hoax.
Almost buried in the interview is a paragraph that suggests that - contrary to what Lightfoot has said in interviews for the past 18 months or so - another original album is not out of the question!
Hope springs eternal, and the news does make this Lightfoot fan hopeful. Read more: Interview: At 71 Gordon Lightfoot Is Touring, Making More Music.

Lightfoot Death Hoax fueled by CanWest reporter on Twitter
February 19, 2010 — Lightfoot was big news yesterday when a news alert by CanWest was Tweeted by one of its reporters, and then picked up and posted by several large Canadian newspapers. It turns out that the original news alert was based on a hoax perpetrated on fellow performer Ronnie Hawkins who truly believed that Lightfoot had died based on a message from someone purporting to be Lightfoot's grandson. Luckily, the man himself heard the news report on the radio, and quickly set the record straight, but it was a wild ride for about an hour yesterday afternoon.
On Tour July 2009, Lincoln, RI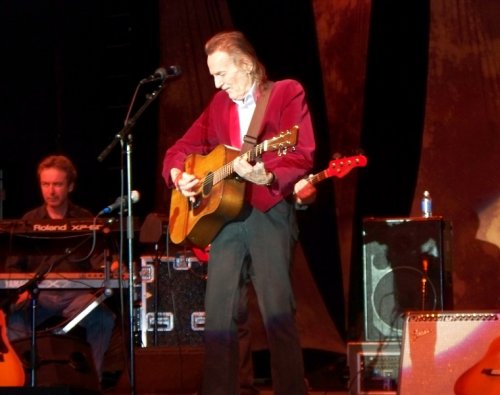 Photo &copy 2009 Michael Borkson
---
Billboard Chart Beat

May 21, 2009 - 'Eminem charts a fifth song from "Relapse," set to debut atop next week's Billboard 200, as "Beautiful" opens at No. 17 on the Hot 100. Of the five tracks, only "We Made You" launched higher (No. 9). The new song is the fifth by that title to appear on the Hot 100 in its 50-year history. The previous artists to make "Beautiful" music and their peaks: Gordon Lightfoot (No. 58, 1972), Christina Aguilera (No. 2, 2003), Snoop Dogg featuring Pharrell & Uncle Charlie Wilson (No. 6, 2003) and Akon featuring Colby O'Donis & Kardinal Offishall (No. 19, 2009) ...' Billboard.com story, emphasis mine.

The question is, which one of the other four will still be played and downloaded 37 years later? And, parenthetically, it's hard to believe that nobody charted a song named Beautiful for 31 years after Lightfoot's! Guess the bar was too high.

Click on the note below to buy the song from Amazon.

Gordon Lightfoot Beautiful (Lyrics)

---
A DVD from Alison Krauss features a Lightfoot song!
November 6,2008; updated January 29, 2013 - To me this is big news! Alison Krauss is one of the most gifted and popular performers out there, with music crossing genre lines. I was introduced to her by other Lightfoot fans, who are always a good source of suggestions for other good music. Alison is best known for bluegrass music, but has made successful forays into other genres; her talent is that good.
She has a wonderful DVD which was released on November 11, 2008, called A Hundred Miles Or More: Live From The Tracking Room.
The DVD has performances taped for a TV show, and these performances include duets with Brad Paisley, James Taylor, and John Waite, and performances with great musicians including her longtime band Union Station featuring Jerry Douglas (whose members are individually well known musicians), and with Tony Rice, Sam Bush, Stuart Duncan and others.
The name that caught my eye immediately was Tony Rice. He is a bluegrass guitar player extraordinaire, and himself recorded an entire album of Lightfoot songs with which many of you are familiar. Tony no longer sings, but he still plays, and he recently did a series of shows with Alison and her band.
I was unable to attend any of those shows (there were only a few of them), but on this DVD Alison has included a couple of performances with Tony Rice including a wonderful cover of Lightfoot's "Shadows". (Tony recorded the song himself years ago. You can find that recording, and many other Lightfoot covers, on Tony Rice Sings Gordon Lightfoot).
You won't read anywhere that "Shadows" is a Lightfoot song, but of course I guessed it immediately because Tony Rice was on the track, and Amazon had the "Shadows" video as the preview on the DVD web page, so I could take a look. There is no preview today, but there is a video available on YouTube that includes two short interviews that are worth watching too. I think this is the video that is on the DVD, but I am not 100% certain. It will at least give you a taste, and I am certain you will be impressed.

I can't say enough about Alison's music, and that of all the musicians she works with, but I can promise that if you buy this DVD you won't put it in a pile of videos you never watch!
The DVD also includes interview footage with all the special guests and musicians. It can be be ordered from Amazon.com using this link.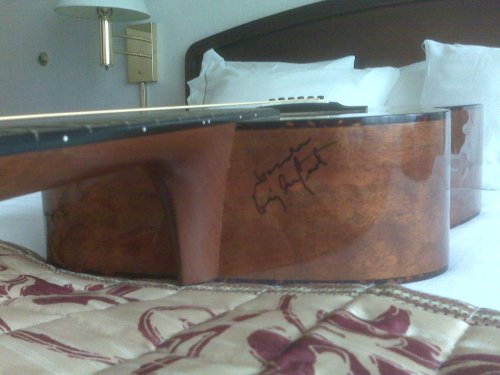 ---
Pete Huttlinger Teaches the Songs of Gordon Lightfoot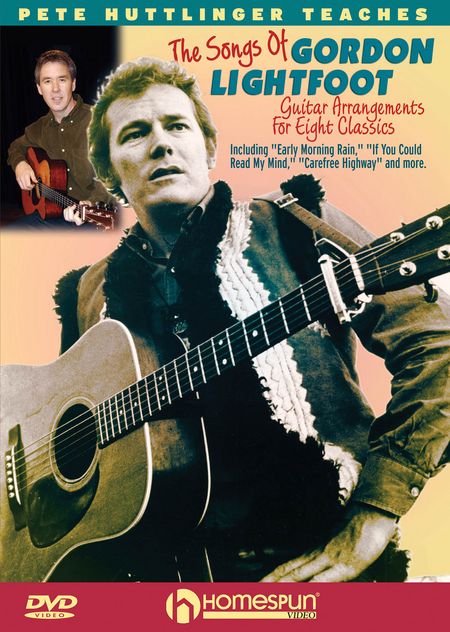 January 23, 2016 - Pete passed away in mid-January, after several years of health issues. He was taken from us far too young. Read about him in these beautiful articles: (Billboard.com article) and (Acoutic Guitar).

March 10, 2008 - OK, folks. If you don't play guitar and don't want to hear about it, skip this review. And, if you do play guitar, please understand that I am a beginner who has never progressed because I don't practice. Five times a year definitely does not work!

However, thanks primarily to some very accomplished guitar playing friends, especially Cathy Cowette, I have a good deal of knowledge about guitar playing - at least in my head, if not in my fingers. I know and understand the terminology, and have mastered a few of the techniques, but can only play slowly. However, with this knowledge, I think I do know what to look for in a guitar instruction video that teaches how to play Lightfoot songs - and this video definitely has what should be there. And Pete Huttlinger, a National Fingerstyle Guitar Champion, composer, and arranger, is a great person to teach it. This DVD teaching how to play Lightfoot songs is a gem, and definitely worth considering if you want to learn to play these songs.

First, let me briefly comment on the song selection. All of my guitar playing friends had the same reaction I did: the song selection is definitely not what any of us would have chosen. After watching the video, I realized why. Pete has limited his selection to songs which were on Gord's Gold, an album that he specifically mentions as a personal favorite. Yes, it's a great album, but choosing only from that one album - and a somewhat odd selection from there - leaves most of us wanting more. Which, when you get down to it, is not a problem. It leaves Pete with a great opportunity. But there are many gems not on Gord's Gold, and it would have been nice to see one or two of them here.

I received a review copy of this DVD from the publisher.



---
Mysteries of the Great Lakes IMAX film uses Wreck of the Edmund Fitzgerald Recording

Click on "Mysteries of the Great Lakes IMAX film" in the title above to read about it and watch the movie trailer.
---
November, 2007/June, 2008 -
New DVD on Canadian Music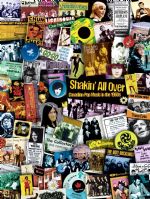 Shakin' All Over: Canadian Pop Music in the 1960s, a documentary that initially aired on Canadian TV in January, 2006, was released on DVD in Canada on December 11, 2007, and in the US in April, 2008.
The two hour special captures the sounds of the decade, from the folk music of Ian and Sylvia, and the rhythm 'n' blues of Ronnie Hawkins, to the many other legendary stars like Joni Mitchell, The Guess Who, Neil Young, Anne Murray, The Band, cult heroes like David Wiffen, The Collectors and Mashmakhan, and some of Canada's brightest younger stars including Blue Rodeo, Barenaked Ladies and Sarah Harmer.
The special is full of candid interviews with more than 60 iconic figures like Gordon Lightfoot (of course), Buffy Sainte-Marie and Bruce Cockburn, who offer illuminating stories about each other. The Lightfoot content includes interview segments plus clips of archival performances of "Canadian Railroad Trilogy," "Early Morning Rain" and "Did She Mention My Name." It also features a clip of Ron Sexsmith's cover of "If You Could Read My Mind." And, strewn throughout are mentions by other artists of Lightfoot's influence on them and on the emergence of Canadian music worldwide.
In addition to the original two hour broadcast, the DVD has bonus interviews with several of the key artists, including a new interview with Lightfoot. Other bonus interviews are with Randy Bachman, Bruce Cockburn, Burton Cummings, Robbie Lane, Murray McLauchlan, Anne Murray, Buffy Sainte-Marie and Sylvia Tyson. The interviews are pieced together from what I assume were live interview sessions, and offer some interesting insights into the experiences and influences of each of these artists. Would you believe Lightfoot mentions Bruce Springsteen as a creative influence?
Shakin' All Over is based on the book "Before the Gold Rush - Flashbacks to the Dawn of the Canadian Sound" (sadly out of print), by Nicholas Jennings, who also wrote the liner notes for two Lightfoot CD releases. Jennings has followed the Canadian music scene for decades, and his knowledge and insight probably make him the premier Canadian music historian. If you haven't read his wonderful biography of Lightfoot in the Songbook boxed set, you should do that.
Along with the recent book by Bob Mercereau, just released in paperback, (see my review), this DVD sheds new light on the history of Canadian music, while featuring some of her greatest musical talents.
Unfortunately, it is already out of print, but is still available new from 3rd party sellers at Amazon (full Amazon guarantee applies). The links above are for Amazon.com; Canadian residents may prefer to buy through Amazon Canada, although in many cases it's the same sellers!
Gordon Lightfoot Tour Schedule moved to its own page!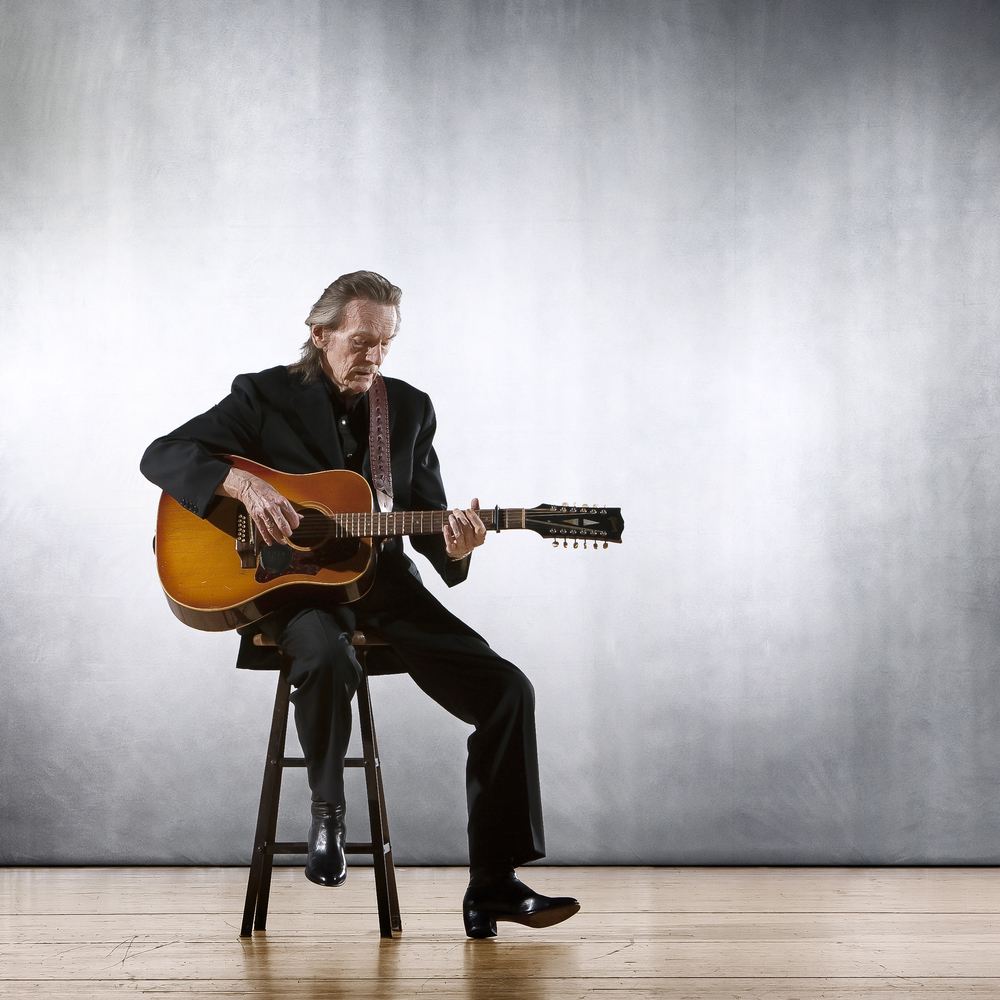 Photo: ©2014 Lorne Bridgman for Massey Hall
Used with permission
Click to visit new Gordon Lightfoot Tour Schedule page.
Anne Murray and Olivia Newton-John Record Cotton Jenny for Anne's Duets CD
Nominated for a Juno as Album of the Year
May 29, 2007, updated January 24, 2008 -
Anne Murray's Duets: Friends & Legends hit the US charts on January 21st, debuting at #42. She first hit the pop album chart in 1970 with Snowbird, which featured her top 10 single of the same name. Her highest-charting album was Let's Keep It That Way, in 1978, which reached #12 and included her #1 hit "You Needed Me." This album has been nominated for a Juno, the Canadian Grammy, for Album of the Year.
The highlight for any Lightfoot fan will probably be her duet recording of Lightfoot's Cotton Jenny with Olivia Newton-John.
The track was recorded at the Capitol Recording studio in Los Angeles, and was produced by Phil Ramone.
Both Anne Murray and Olivia Newton-John recorded a Lightfoot song early in their careers; Anne recorded Cotton Jenny and Olivia recorded If You Could Read My Mind, both released in 1971.
The other artists, all female voices that Anne admires, include Shania Twain, Martina McBride, Nelly Furtado, Isabelle Boulay, k.d. lang, Celtic Woman, Carole King, Olivia Newton-John, Emmylou Harris, Jann Arden, Shelby Lynn, Sarah Brightman, Celine Dion, Amy Grant, Indigo Girls, Dusty Springfield and Anne's daughter, Dawn Langstroth. The duet of "I Just Fall In Love Again" used Dusty Springfield's original 1979 recording; Dusty passed away in 1999.
Duets: Friends and Legends was released November 13th in Canada, and January 15th in the US. It is available from at Amazon.com, and my links above go there; Canadian residents may prefer to buy it from Amazon.ca using this link: Duets: Friends and Legends (from Canada).
---
Sarah McLachlan's Wintersong: A Holiday Treat and a Lightfoot Song
December 8, 2006 -

Sarah McLachlan's Wintersong: Canadian recording artist Sarah McLachlan's first Christmas album earned a Grammy nomination for Best Traditional Pop Vocal Album. Sarah has already garnered three Grammy Awards over the years.

Wintersong jumped into the Billboard top 10 this week, entering at #7, and it has also already been certified gold by the RIAA for U.S. sales in excess of 500,000 units. Needless-to-say, perhaps, it is #1 on Billboard's Top Holiday Albums Chart.

The album is unusual for its genre, combining recordings of traditional Christmas songs like What Child Is This, O Little Town Of Bethlehem, and Silent Night, covers of more secular but seasonal songs by contemporary songwriters like John Lennon (Happy Xmas (War Is Over)), Joni Mitchell (River) and Gordon Lightfoot (Song For A Winter's Night) and a new original, the title track, Wintersong. Other tracks are American holiday standards I'll Be Home For Christmas, Have Yourself A Merry Little Christmas, and Christmas Time Is Here, and the album is completed by In the Bleak Mid Winter, and the medley The First Noel/Mary Mary.

Sarah clearly has a fondness for the Lightfoot song, having recorded it in the early 90s and released it on her somewhat obscure album, Rarities, B-sides, and Other Stuff. With only the winter theme, and sleigh bells in the Lightfoot version, the song has nevertheless become a modern Christmas standard - even though it was written during a summer thunderstorm in Cleveland! Sarah recorded it and has sung it in concert appearances for more than a decade.

Her first recording was featured on earlier holiday compilations and also on the soundtrack CD for the Miracle on 34th Street remake (although it did not appear in the movie, if I recall correctly). Now the song receives an even more more prominent placement as one of the highlights of Sarah's own holiday album (listen to clip or download MP3 at Amazon here).
---
Gordon Lightfoot on CD and DVD
In 2005, Rhino reissued Gord's Gold, Lightfoot's 1975 Greatest Hits album. This CD was withdrawn in 2002, shortly after the release of Complete Greatest Hits. For those not familiar with the various "Greatest Hits" collections, Gord's Gold was released in 1975, and contains recordings taken from his early 1970s albums, plus new recordings of songs he originally wrote and recorded in the 1960s. The style is consistently "1970s Lightfoot", and many of the rerecordings have become fan favorites.

Complete Greatest Hits was released in 2002. It is the only single CD collection that includes recordings from throughout his career, from those released on United Artists in 1966 through one song, Restless, from his 1993 CD, Waiting For You. Each of these CDs, as well as Gord's Gold, Vol. 2 - with new (1988) recordings of 14 songs plus 4 from earlier albums - contains an important part of the Lightfoot legacy.


For more about Lightfoot CDs and DVDs, visit the Albums and the Lightfoot on DVD pages at this web site.

All of his CDs that are still in print, including his latest original CD Harmony (2004), are available at many web sites online and some are available from My Lightfoot store.

---
Gordon Lightfoot Mailing List moved to its own page!
Click to sign up for my Gordon Lightfoot Mailing List.
---
Don Williams New CD Reflections, Review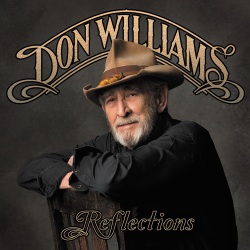 March 11,2014 — Sugar Hill Records has just released "Reflections", a new CD from Don Williams. Working again with longtime producer Garth Fundis, Don releases his second CD since his return from what turned out to be a brief "retirement". Known as country music's "Gentle Giant", the Country Music Hall of Fame member has released nearly 30 original albums, most recently the highly acclaimed "And So It Goes", in 2012.
It's a lovely collection of songs, about love, the working man, and family, all themes he has sung about in the past. The songwriters include Townes Van Zandt ("I'll Be Here In The Morning"), Merle Haggard ("Sing Me Back Home"), Jesse Wincheser ("If I Were Free"), and Steve GIllette & Rex Benson ("Healing Hands"), and every one of them is a master of his craft. WIth the songs in the hands of Don Williams, the result is an album that might be Don's best ever.
Don's style is a mixture of country and pop (he listened to both growing up), and appeals to a wide audience, He has been a strong presense on the airways and music charts for decades. He is one of many major recording artists to have recorded a Gordon Lightfoot song; the often covered "If You Could Read My Mind" was his choice. And, showing that his musical taste overlaps with mine, he has also previously recorded three songs written or co-written by Steve Gillette; "Back on the Street Again" by Steve alone, and two songs by Steve and Charles John Quarto: "(That Song About) The River" and "The Old Trail" (the latter as a duet with Kathy Mattea). And now, on Reflections, he has recorded a fourth song co-written by Steve, "Healing Hands".
I became aware of the latest CD project early last June, when Rex Benson, another frequent co-writer with Steve, tweeted that one of their songs, "Healing Hands", had been just been recorded by Don Williams. That meant that a new Williams CD was in the works, but there was as yet no certainty that the song would make the cut. "Healing Hands" had been written 21 years earlier, and released on Steve's album, "The Ways of The World" — an album that has already produced four songs that were recorded by major artists: the two Charles John Quarto co-writes that Don had previously recorded, plus "Bed of Roses", written with Rex Benson, and recorded most famously by Kenny Rogers, and "Grapes on the Vine", written with Charles John Quarto, and recorded by Waylon Jennings, Tony Rice and others.
Steve & Rex have collaborated before, on "Bed of Roses", mentioned above, "Glass Houses", recorded by Tammy Wynette (duet with Joe Diffie), and "Unto You This Night", which Garth Brooks put on his very popular Christmas album. Any song penned by Steve & Rex is likely to be notable, and "Healing Hands" is no exception.
Don's new album is available now from Amazon.com (CD), Amazon.com (Vinyl), Amazon.com (MP3 album), and from Amazon.ca and Amazon.co.uk.
Don Williams: Reflections - Review
Here is the track listing: (Amazon links)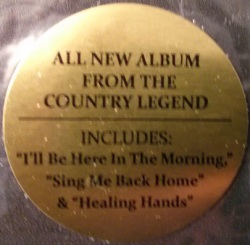 I have listened to all the songs, in order, many times. This is a great CD - one I would probably not have discovered had I not been a Steve Gillette fan and friend. I enjoy hearing covers of his songs, just as I enjoy hearing covers of Lightfoot songs, and have always enjoyed good Country music, especially the traditional county sound that Don exemplifies.
I purchased this CD with my own money, and it was worth every penny.
---
Actor, Singer/Songwriter Hamilton Camp
Hard Four, Final Movie Role, Available on DVD and Instant Video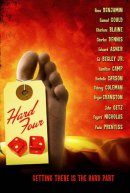 December, 2010 - Hard Four, Hamilton's final movie role, was finally released to DVD in July of 2010. It has a cast consisting of many very funny people, and it's a shame that the movie never made it to the theaters. But, thankfully, you can now buy the DVD and add Hamilton's final acting role to your collection. You can purchase the DVD from Amazon here, or downloaded the movie as an instant video here.

Here's To You Album - Finally Available on CD-R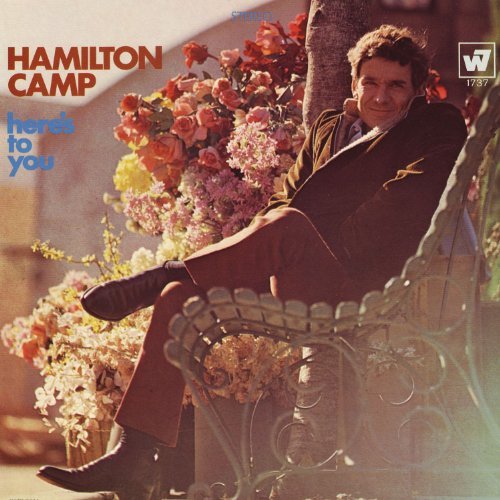 In late 2010, I discovered that Hamilton Camp's 1967 album, Here's To You was about to be released on CD. Although it does contain a hit single - the title track - it did not seem to be a priority for CD or CD-R release, especially after several years of availability as a download, but it was a pleasant surprise. Unfortunately, the CD-R was withdrawn failry quickly, possibly because I complained about the artwork (which looked as if it had been photocopied by a 10-year old; I guess I should have said nothing). It does remain available as a download, and even seniors are slowly adopting that format.
Here's To You, the song, reached #76 on the pop singles chart in 1968. For those of us who discovered him as part of the Gibson & Camp duo, it hard to believe that the "folkie" Camp is the one singing it! But, moving with the times, he adapted his style to produce a very "pop" sounding single. NB: This is not folk music, but 60s pop!
Hamilton was accompanied and assisted on this album by all stars like Jerry Scheff, Van Dyke Parks, Hal Blaine, Earl Palmer, Bud Shank and producer Felix Pappalardi. Read more at the Hamilton Camp site: Here's To You album page. Listen to clips and buy the MP3 album at Amazon (see link below).
Hamilton Camp Dies at 70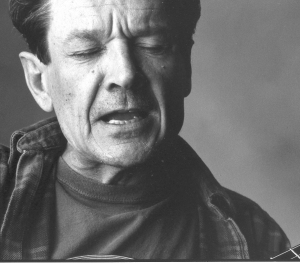 October, 2005 - I am extremely sad to report that Hamilton Camp died suddenly on October 2. I had only known him for 20 months, but I am proud to say that he was a good friend, and I am shattered by his death as are his family and his fans and friends from around the world.
An accomplished character actor who was sought after by directors because of his reputation of being able to make a role, he appeared in numerous films, stage productions (including Broadway), television, and as a voice actor on animated films and video games. Some of his most notable TV roles were on the short lived He and She, in 1967, and in popular TV series including Mary Tyler Moore, Mash, Too Close for Comfort, Star Trek: Deep Space Nine, and Lois & Clark: The New Adventures of Superman.
Although his primary career was as an actor - a choice he made because it wouldn't require constant travel away from his family - he also pursued a music career and wove it in and out of his life for 5 decades. He is best known as a member of the Gibson & Camp duo, whose 1961 album Live At The Gate Of Horn was acclaimed as one of the most influentual folk recordings of its time. He and Bob Gibson reunited periodically for more than 35 years, until Gibson's death in 1996, performing at special reunion shows and releasing two other albums together. It was Gibson's daugher, Meridian Green, who was thoughtful enough to think to call me as soon as she heard that Hamilton had died.
Hamilton also released four solo albums, and one album with a group of friends known as the Skymonters. He had a minor hit in 1968 with Here's To You, which reached #76 on the top 100 chart, and his folk classic Pride Of Man (Buy MP3) was recorded by Quicksilver Messenger Service, which had a hit with it, and by Gordon Lightfoot and Tony Rice.
Just days before his death, he completed the artwork for his last CD. It has many new original songs, a new recording of Pride Of Man, and several covers including Dylan's Ring Them Bells (which Lightfoot also recorded). You know what they say about great minds! Camp's new original song, Long Train, is stunning, as is his musical interpretation of Yeats and Byron poetry (Celts/Go No More A Rovin'). Click on "More info", under the cover image, to hear clips and see the entire track listing.
Sweet Joy is available at his web site, along with several earlier CDs, both solo and with Bob Gibson. If you are interested in learning more about him, or wish to buy one of his CDs, please visit his web site here: Hamilton Camp Official Web Site.
I can't begin to say how much I will miss him. I looked forward to our frequent online chats. He was warm, compassionate, funny, clever ... I can't think of enough adjectives. He loved the sounds on Yahoo Messenger, and often had me in stitches when he inserted one into an otherwise serious discussion. He was passionate about everything he did, not only his dual professions, but also special projects that he took on including being the Treasurer (!) for a health relief non-profit that was caring for Tsunami victims. What was amazing was not that he was doing his part to help others, but that this talented musician and actor learned Quickbooks so he could do a job that had to be done. Somehow, I don't think accounting was one of his favorite things, nor something for which he had a special gift, but he did what was necessary to help out a worthy cause.
I feel very privileged to have known him, and can be slightly comforted by the fact that he was doing what he enjoyed every day, and had the satisfaction of seeing his CD project to completion and just as he wanted it. And I have the satisfaction of knowing that late in the recording process, when he was discouraged about one of the songs because he couldn't get it the way he wanted it, I urged him to try again. He did, and this song is on the CD.
I will miss him terribly.
---
Folk Notes

Steve Gillette & Cindy Mangsen
As I always like to say, Steve Gillette & Cindy Mangsen are not Gordon Lightfoot, but I really think you would enjoy them as much as I do. I have found that most Lightfoot fans share the same tastes in music, so I am sharing one of my favorites with you.
I can not say enough about how excellent the pair are as a duo, while their individual talents stand on their own. Steve is well known as a songwriter, whose songs have been recorded by artists like John Denver, Garth Brooks, Nanci Griffith, Ian & Sylvia, Waylon Jennings, The Kingston Trio, Anne Murray, Linda Ronstadt, Kenny Rogers, Tammy Wynette, Josh Ritter and others. You will recognize many of the songs when Steve sings them; he is a wonderful guitar player with a unique style, and a superb vocalist as well. Some of his best known songs are Darcy Farrow, Bed of Roses, Glass Houses, (That Song About) The River, and Back on the Street Again. Gordon Lightfoot performed Darcy Farrow on stage in the 1960s, but never recorded it (too bad!). If you click the play button in the image above, you'll see Steve & Cindy perform Bed of Roses, or click the following link to see them perform my favorite, Darcy Farrow. Bed of Roses is another of Steve's wonderful songs, a beautiful love song, recorded by Kenny Rogers.
Cindy is a wonderful vocalist, who performs both her own songs and traditional songs, and accompanies herself on guitar, banjo, concertina, or mountain dulcimer. Her harmonies on Steve's songs are beautiful. Here's a clip of Cindy performing a stirring renditioin of the Child Ballad, The Two Sisters.
Their web site is at compassrosemusic.com; listen to clips from Cindy's latest CD here (cat lovers take note!), and their latest duo CD, Berrymania, here. Also, listen to clips from their live CD, Live In Concert, which includes their beautiful renditions of many of Steve's most well known songs, including both Darcy Farrow and Bed of Roses.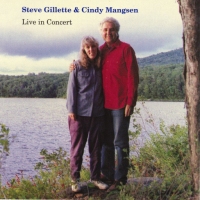 Live In Concert also contains many of the other songs Steve wrote which were hits for major recording artists; songs like "Grapes on the Vine", "Glass Houses", "The Old Trail", "(That Song About) The River", and "Crying Don't Even Come Close", as well as Cindy performing a number of beautiful traditional songs.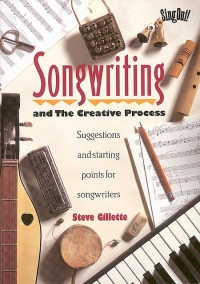 Finally, for the songwriters out there, Steve wrote a book on songwriting, called "Songwriting and the Creative Process". It includes detailed chapters on music theory, melody, harmony, rhythm, song critique, poetic principles, alliteration, titles, hooks, collaboration, creativity, writer's block, left brain and right brain, social issues, publishing, and surviving in the music industry - pretty much everything you need to know, from one of the most talented songwriters out there. Also included are articles and interviews with Graham Nash, Tom Paxton, Len Chandler, Fred Koller, Butch Hancock, Mary McCaslin, Michael Smith, Lou & Peter Berryman, Bob Franke, Nancy White and many others. The book is available from Steve's website "Songwriting and the Creative Process". And, to get you started, Steve has posted excerpts from the book on his website here: Songwriting Tutorial.
Steve Gillette & Cindy Mangsen
New Duet Album Steve Gillette & Cindy Mangsen: Berrymania
12/2013 -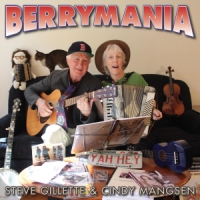 Steve & Cindy just released another new duet album, Berrymania, This CD is a tribute to their friends and fellow musicians, Lou and Peter Berryman, and includes 14 of Steve & Cindy's favorite Berryman songs. The Berrymans - once married, but still going strong as a musical duo - write clever and funny songs, and Steve & Cindy have recorded stunning versions. The CD is available in their online store here: Steve Gillette & Cindy Mangsen, Berrymania.
Clips are available here.
Steve Gillette & Cindy Mangsen
2012 Duet Album Steve Gillette & Cindy Mangsen: Home by Dark
Last updated 7/15/2012 -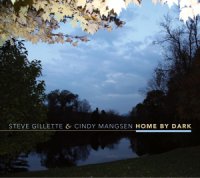 Steve & Cindy released a stunning new duet album, Home by Dark, in early 2012. Their Caffè Lena gig in Saratoga Springs on January 7th was their CD Release Concert, and the room was sold out. Like their earlier duet albums, and their live concerts, the new CD is a mixture of original songs, covers of artists they admire, and traditional tunes. As always, the musicianship is top notch, the tunes catchy, and the lyrics clever. I played the CD almost continuously on my eastbound and westbound trips between Denver and Saratoga Springs, and have fallen in love with it. The title song, Home By Dark, as well as Holy Smoke, California Zephyr, Seal Harbor (be prepared to cry), and Two Sisters are my early favorites. The CD is available in their online store here: Steve Gillette & Cindy Mangsen, Home By Dark.
Clips are available here.
Steve Gillette - The Man (2010)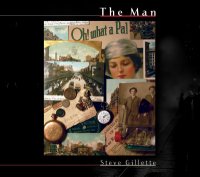 In 2010, in a departure from his pure folk and country roots, but much in keeping with his encyclopedic knowledge of music, Steve released The Man, a CD complete with narrative and music, telling the story of the fictional Danny Morrow and drawing from roots jazz, folk, and blues.
Most of the songs are from the 1930s, perfect for Steve's story, which mixes fictional characters with real people, while artfully taking the listener back to those times. Added to the old classics are two new Steve Gillette originals, which fit seamlessly. The CD was inspired by his father's stride piano playing, which is heard on many cuts; the same musical influence that helped inspire the way he, Steve, plays guitar.
Watch Steve & Cindy perform Harburg & Gorney's, "Brother, Can You Spare a Dime?" live in concert, in the video just below. "Brother," is one of the songs on the CD.
Being There: 2006 Duet CD by Steve & Cindy

Steve & Cindy released their previous duet CD, Being There (Steve Gillette & Cindy Mangsen), in early 2006. It is a truly wonderful CD, and I don't say that lightly.
Being There includes new originals, some traditional tunes, and a number of covers of other artists they admire. Just like their concerts, the CD displays their many talents, both in original music and lyrics, and in new interpretations of songs of others. Steve and Cindy's vocals and musicianship don't disappoint and the new originals are gems.
The first cut, and one of my favorite Steve songs, is "Hurricane," about the terrible hurricane of 1935 that took nearly two thousand lives, and destroyed the railroad once described as the "eighth wonder of the world." For those of you who, like me, like story songs or train songs, here is one that ranks up there with the very best.
You can listen to a clip of the song here. You can listen to clips of all the songs on the CD on the Being There web page.
Cat Tales CD: A Great Gift Idea for Cat Lovers

Late in 2005, Cindy released her most recent solo CD called Cat Tales, all about one of my favorite subjects: cats! This is a CD made up entirely of cat songs! Cindy's creativity and wit, combined with outstanding musicianship, will make this CD a sure hit - and maybe a clever gift for a cat lover friend or relative. My favorite song in the CD is one of Cindy's originals: Rudy's Big Adventure, a true story - with a happy ending - about a cat that gets his head caught in a garbage disposal. Click here to listen to a RealMedia clip. There are clips of most of the other songs on the CD on the Cat Tales web page, so take a look and a listen to a great cat lovers gift.

You can visit their web site at compassrosemusic.com to learn more about them. Steve and Cindy also recorded a CD with Anne Hills and Michael Smith, as the group Fourtold, and Cindy has recorded as a member of the trio Herdsman, Hills & Mangsen.
---

The Brothers Four were pioneers of the "folk revival"; of the few groups from those times still performing today, they remain one of the best known and most popular. Their all-acoustic presentation consists of guitars, banjo, mandolin, upright bass, and of course the trademark rich blend of their four voices. Visit their new online store here: The Brothers Four. I feel privileged to have the opportunity to run their online store for them.
Check out their latest release (pictured above): The Brothers Four - Renewal. Previously, they released a CD in the Spring of 2014: "The Beautiful World of The Brothers Four", a 19 track disc including two medleys. As a follow-up to their stellar 2010 release, "Golden Anniversary", which has 20 tracks (and 3 medleys), it is amazing to note that there are only a few songs that appear on both collections, yet all are well loved songs from their huge performing catalogue. Both CDs can be purchased from their online store here: The Brothers Four CDs (Store). Visit the store for the full track listings, and to listen to clips; there are clips of all the songs on "Golden Anniversary" now; I'll make clips for other CDs as soon as I can.
Finally, if you are looking for a Lightfoot song, you will find one on two of the CDs in the store; "Early Morning Rain" appears on both the rare, "Silver Anniversary Concert", and also on "The Tokyo Tapes" (a two CD set). Here's a clip from the latter CD: Early Morning Rain.
Their web site is at The Brothers Four.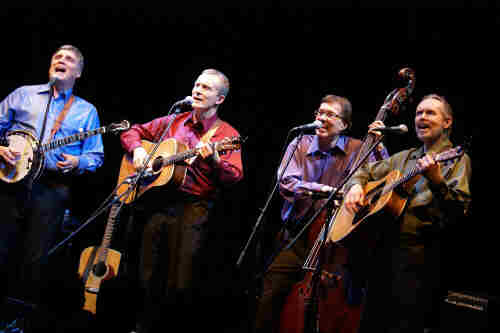 The smooth musical sounds of The Brothers Four have delighted millions for five exciting decades. The Brothers Four have played thousands of college concerts, serenaded four U.S. presidents at the White House, appeared at countless Community Concerts, performed with symphony orchestras and jazz stars and entertained in dozens of foreign countries. Internationally acclaimed, they are truly "America's Musical Ambassadors to the World."
Musical million-sellers for The Brothers Four include such releases as "Greenfields," "Yellow Bird," "Try to Remember," and "Across the Wide Missouri." Their hit recording of "The Green Leaves of Summer" from the motion picture "The Alamo" was nominated for an Academy Award and they performed the song at the awards presentation for the global network telecast.
The full-time lineup of The Brothers Four, as solid as ever, now includes; Mike McCoy, a veteran folk performer & singer/songwriter who has performed with The Brothers Four on special recording projects and occasional stage presentations since the late 1960's; Karl Olsen, a Washington native, folk performer, choral director, writer and arranger, who is the latest addition to the group, blending his sparkling vocal and guitar skills smoothly into the sound of The Brothers Four; Washington State's Mark Pearson, guitarist, banjo player extraordinaire & singer/songwriter who has been a strong and consistent part of the group's signature sound since he originally joined in the late 1960's; and Founding Member and Seattle native, Bob Flick, bass player, group leader & singer/songwriter.
---
Michael Jerling Latest Studio CD

March 27, 2019 - "Family Recipe" (2018) is Michael Jerling's tenth album, a collection of twelve new original songs. Included are a country ballad, "In Lieu Of Flowers," a poignant look at family with the folky "Family Recipe," a bit of fingerpicking whimsy (and a whole lot of humor) with "That's Why Republicans Hate Trains," and a waltz-time look at European café society between the wars in with "When Words Still Mattered."
Ably assisted by many talented musicians including Peter Ostroushko (mandolin), Tony Markellis (bass), Teresina Huxtable (reed organ, accordion, vocals), Tom Wieseler (keyboards), Danny Whelchel (drums and percussion), Kevin Maul (pedal steel & dobro), Nick Piccininni (fiddle), Orion Kribs (mandolin), John Kribs (electric guitar) and Don Armstrong, Liz Hood and Carol Christensen (harmonies). Greg Montgomery and Paula Rosenberg handled the album graphics.
This album is available on CD, and digitally as both hi-res MP3s and lossless FLACs. See more at my Michael's Fool's Hill Music online store.
Michael Jerling 2014 Studio Studio CD

June, 2014 - Saratoga Springs singer/songwriter Michael Jerling released a new album of original songs, Halfway Home in late December 2013. It is his seventh CD, and his first album of all original songs since 2007's Crooken Path. Michael is a wonderful songwriter and talented musician, and a good friend, and I urge you to check out this excellent new album. There are clips at his web site, and you can buy this CD, or any of his other recent CDs at his online store at Fool's Hill Music, where he sells his own music and that of other singer/songwriter friends. And, starting with this album, FHM now sells downloads as well! Check it out here.
Michael Jerling Live Album

September, 2009, updated 1/10 - Saratoga Springs singer/songwriter Michael Jerling has released his first live CD, Music Here Tonight. It is his sixth CD, but his very first live album. Michael is a wonderful songwriter, talented musician, and consistent live performer, so the music is both polished and representative of his live shows. This is a CD you should check out. There are clips at his web site, and the one new song (the title track) is streamed in full in the Listening Room.
2007 Studio Album, "Crooked Path"

September, 2007, updated 1/10 - Saratoga Springs singer/songwriter Michael Jerling's Latest Studio CD, Crooked Path, in September, 2007. It is his fifth CD, and like his others is full of beautiful music and creative lyrics. One of the songs on this CD, Why They Run The Race, is about racing at Saratoga - a subject dear to my heart!
Fool's Hill Music store
Michael Jerling has a growing collection of albums in his Fool's Hill Music online store. His store showcases a fine group of acoustic artists, mostly from upstate New York, with a few from the midwest and elsewhere in the US. In many cases, Michael acted as the producer for the CDs; in all cases, the music is excellent. For more, check the online store at foolshillmusic.com.
---

Looking for CDs, vinyl or DVDs? Lightfoot & more?
Check my Lightfoot store.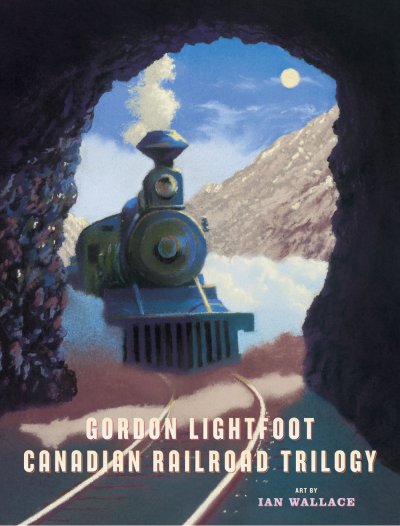 Simon & Garfunkel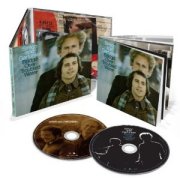 Bridge Over Troubled Waters
40th Anniversary Edition
CD and DVD with 1969 "Songs of America" TV broadcast and a documentary
Chad Mitchell Trio: New Online Store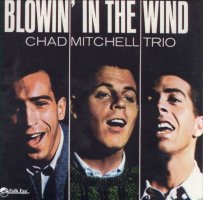 I am happy to announce that I recently took over operation of the online store at the Chad Mitchell Trio website. In additioin to the items previously for sale, I have added three classic Chad Mitchell Trio CDs from Folk Era: Mighty Day on Campus, At the Bitter End and Blowin' in the Wind.
Their newest items are the CD and DVD multi-disk sets from the 2014 Farewell Concert sponsored by the Washington DC based World Folk Music Association. They are the first two items in the
store
.
I feel privileged to host the website and operate the store for The Chad Mitchell Trio.
WMFA — 2014 Chad Mitchell Trio Farewell Concert Video DVD
July 6, 2015, updated February 8, 2016 -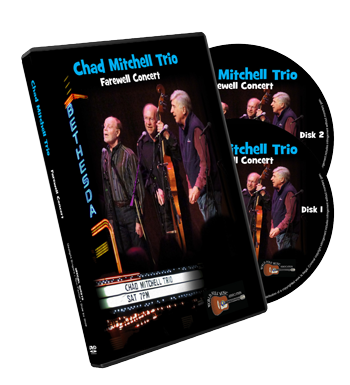 Since 1983 the World Folk Music Association (WFMA) has been dedicated to promoting contemporary and traditional folk music, and spreading the word to fans and folk artists — keeping everyone in the folk community involved and informed.
The idea for WFMA began as a simple conversation between Dick Cerri, host of the popular and long running radio show, Music Americana, and singer/songwriter, Tom Paxton. Both Paxton and Cerri agreed that there was a strong need to keep the people who loved folk music "in tune" with the folk scene.
That was in 1982. Today the Washington, DC based WFMA is a non-profit, tax exempt 501(c)(3) organization with a mission to help folk artists and their fans keep the light of folk music burning brightly.
WFMA pulls together local and national artists for concerts and other special events that would not otherwise be availabe to folk fans, in a way that supports the intimate nature of the folk tradition.
In November, 2014, the World Folk Music Association hosted a special Chad Mitchell Trio Farewell Concert. It was the last land-based concert for the Trio, with a cruise scheduled in 2015. To celebrate the event and the Trio's career, WFMA and the CMT have released a 2 DVD set of the concert, with a full disc of the Trio's performance, as well as the first set of the show with the Gaslight Singers, Side by Side and Tom Paxton. Folk music fans will want to get their hands on this wonderful video!
Now, in February, 2016, WFMA and the CMT have released a 2 CD set, which includes most of the concert in its audio splendor.
You can read about the DVD here, and the CD here. You can order them from the WFMA online store or the Chad Mitchell Trio store, both of which I host.
WFMA's Catalogue of Folk CDs and DVDs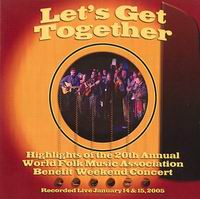 If you scroll through the WFMA store, you will find recordings from their annual concerts, and other special performances of top folk recording stars of the 60s through today.
Among their recordings are a compilation CD and DVD (two separate items) of their 20st Annual Concert weekend, recorded live at the Birchmere on January 14 & 15, 2005. Both feature performances by many of the great names of American folk music including: Oscar Brand, Buskin & Batteau, The Brothers Four, Hamilton Camp, Bill Danoff, Steve Gillette & Cindy Mangsen, Carolyn Hester & David Bloom, The Highwaymen, Christine Lavin, The Limeliters, Tommy Makem, David Mallett, The Chad Mitchell Trio, Modern Man, Tom Paxton and Schooner Fare. The Hamilton Camp track is a cover of Jimmy Webb's The Highwayman, and is probably the last live recording that he made before his untimely death later that year. Tommy Makem passed away in 2007.
If you are interested in live folk recordings not available elsewhere, you should take a look at what they have. Their web site is at wfma.net.
---
Peter, Paul and Mary CD: The Prague Sessions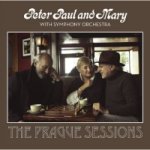 March 7, 2009 - Peter Paul & Mary With Symphony Orchestra: The Prague Sessions is the result of a project envisioned by the band prior to Mary's death in September, 2009. Peter & Paul have recorded new orchestral arrangements of their songs, which were then combined with recent/archival live vocals. The results are exquisite, and a wonderful tribute to Mary. The CD will be released on Tuesday, March 9th, and can be pre-ordered today.
The album is dedicated to Mary; each song was recorded at a different concert over the last 20 years. The final song, an instrumental, is one that Mary had requested be played at her memorial.

Mary Travers Passes Away at 72
September 17, 2009 - Another folk voice has been stilled, that of Mary Travers, who passed away Wednesday, 9/16, following a long battle with leukemia and the effects of treatment.
As a member of the renowned trio Peter, Paul and Mary, she helped energize the folk voice.
The trio were one of the top acts of the 1960s and early 1970s, and had hits with their own songs and with those of Bob Dylan, Gordon Lightfoot, John Denver and others. The music of today would not be the same without the influence of this trio.
Peter, Paul and Mary were among the first to record Lightfoot's songs; their covers of Early Mornin' Rain and For Lovin' Me were hits in the US, and helped introduce Lightfoot to US fans. One of his early gigs was an opener for Peter, Paul and Mary at the Hollywood Bowl in August, 1969.
I never had the privilege of meeting Mary, but I did meet Noel (Paul) in January, 2005. His humility speaks for all three of them. Mary will be missed.
Visit the Peter, Paul and Mary web site for more about Mary, and about the trio.
---
Bob Gibson, Hamilton Camp, Gibson & Camp
March, 2017 -
Yes I See was Bob Gibson's second album for Elektra, released in 1961. In this album, he returns to his traditional roots, following his more pop flavored first album, "Ski Songs." Sadly, both albums — released on CD by Collector's Choice in 2008 — are now out of print, but I was able to snatch up some of these and can offer them to you now. In addition to some popular traditional tunes, Bob teamed up on the songwriting with his performing partner Hamilton Camp (then known as Bob Camp) for three of the songs.
Click on the cover image or album title to see the track listing, or to purchase it.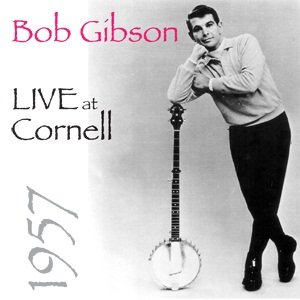 December, 2015 -
I just received copies of a 2 CD concert by Bob Gibson at Cornell University in 1957, called "Bob Gibson - Live at Cornell". There is also a bonus CD of an informal after-concert "song exchange" with Bob and several members of the Cornell Folk Music Club.
This CD is being sold by Alan Shaw of Rediscover Music/Folk Era/Wind River.
March 2008 -
is a little known Gibson & Camp album which highlights not only Gibson's own compositions, but also those of Shel Silverstein, Steve Goodman and Michael Smith, among others. Bob and Hamilton teamed up with Dick Rosmini, in whose home studio Homemade Music was recorded, years before the practice became commonplace. Dick acted as producer and recording engineer and played the back-up instrumentals.
Lightfoot connection: As many of you may know, Bob Gibson and the 1961 ground breaking album, Gibson & Camp At The Gate Of Horn, strongly influenced a generation of folk musicians not the least of whom were Gordon Lightfoot and Roger McGuinn. Both of these artists frequently talk about Gibson's influence on them. In an interview in February, about his upcoming concert in Chattanooga, TN, Lightfoot talked about Gibson at some length. You can actually listen to Lightfoot's comments in an audio clip in the article: Chattanooga Times articles (listen to the first of two clips).
You will hear Lightfoot talk about how Civil War Trilogy influenced the song structure of his own epic, Canadian Railroad Trilogy. (In fact, the 3 parts of Civil War Trilogy were actually written by different songwriters: Camp and Shel Silverstein, Irving Gordon, and Gibson respectively). Civil War Trilogy is one of the songs on Gibson & Camp At The Gate of Horn, and on Gibson & Camp At The Gate of Horn Revisited; "Revisited" contains Gibson & Camp's version of Lightfoot's "For Lovin' Me".
Lightfoot has also credited Bob Gibson as a key influence of his own 12-string playing style, and he recorded Hamilton Camp's folk classic Pride Of Man on his first UA album, Lightfoot!
---

Follow Gordon Lightfoot Music on Twitter
---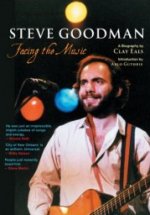 Steve Goodman Biography Gets 4th Printing
June 13, 2007; updated July, 2008, July 4, 2012 and June 1, 2017 - Clay Eals, a Seattle writer and journalist, has written a thorough, thoughtful and insightful biography of singer/songwriter Steve Goodman, who died at only 36 from leukemia, a disease he battled throughout his entire recording career.
The book got its fourth printing early in 2017; this printing includes more than 130 new updates, fixes, footnotes and photos, all in the same 800 pages.
Goodman, best known for his signature song "City of New Orleans", as well as "You Never Even Call Me by My Name," "Banana Republics," "A Dying Cub Fan's Last Request", and "Go, Cubs, Go", now played after every Cubs home win, came out of the Chicago folk scene (as did Gibson & Camp and Roger McGuinn, among others). At last there is a book that recognizes his important musical contributions.
The book, a labor of love over many years, is a massive 800 pages (over 4 lbs in weight!), and includes more than 600 photos, and a MP3 album download of tribute songs and interview clips. If you purchase the book from the author's site, you will get the tribute album on CD-R. The book has been very well received, and was recognized with an IPPY Silver medal.
The book features interviews with more than 1,050 sources, including Gordon Lightfoot, Arlo Guthrie (who wrote the Foreward), John Prine, Steve Martin, Jimmy Buffett, Kris Kristofferson, Bonnie Raitt, Jackson Browne, Willie Nelson, Emmylou Harris, Randy Newman, Paul Anka, David Allan Coe, Judy Collins, Tom Paxton, Pete Seeger, John Sebastian, Leo Kottke, and Goodman's high-school classmate Hillary Rodham Clinton. Lightfoot's recollections and the influence of his "train song" on Goodman's make interesting reading for Lightfoot fans.
The years have rolled on, and playoff status eluded the Cubs until the Fall of 2016, when the they won the National League Championship Series to advance to the 2016 World Series, and then won the ultimate prize, the World Series itself. Happily, many who are getting to know Goodman for the first time via his visceral love for baseball are discovering that he is the same guy who wrote the nearly mythical "City of New Orleans" and many other affecting romantic, hilarious and socially acerbic tunes.
To learn more about the book, visit Clay's web site at clayeals.com.
December, 2006 - Cathy Cowette: Songs For A Winter's Night: My best friend, Cathy Cowette, a very talented singer/guitar player, has just released her first CD. Of 13 tracks, six are Lightfoot songs: Song For A Winter's Night, Redwood Hill, If You Could Read My Mind, Home From The Forest, Ribbon of Darkness and Heaven Help The Devil. The others songs are by Jim Croce (These Dreams), Kate Wolf (Across The Great Divide), Eric Clapton (Tears In Heaven), Steve Goodman (City Of New Orleans), Dan Fogelberg (Leader Of The Band), and Davie Graham (Anji), plus there is one original instrumental called ... Toronto In May. That was written for the May, 2001 Lightfoot concert series, Cathy's first time there and my second.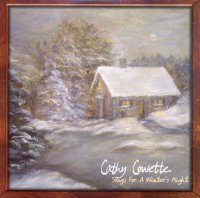 Many of you are already familiar with Cathy's music; if you are not, please listen to the clips on her web site at cathycowette.com. I think you will like what you hear.
The CD was recorded at Grant Avenue Studios, in Hamilton, ON, by Bob Doidge and Amy King. There is a nice mixture of fingerpicking and strumming, and wonderful arrangements by the very talented Mr. Doidge, who also did the arrangements for two of the songs on Lightfoot's 2004 CD (and the recording of the entire album). Bob plays high-string guitar, bass, accordian, drums ... and sleigh bells ...

---
Bob Dylan

Travelin' Thru, 1967 - 1969: The Bootleg Series, Vol. 15
Preorder Now



---
Carly Simon memoir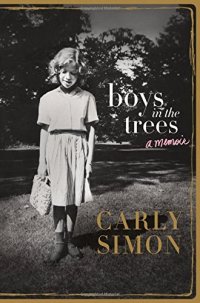 On Amazon.com Now
Buy: US CA UK
---
Leonard Cohen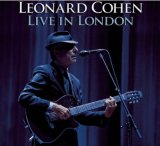 From 2008 Tour
Buy 2 CD set
Buy DVD