February 21, 2011, updated April 17th — Terry Clements, lead guitar player for Gordon Lightfoot for four decades, passed away on February 20th.
Clements suffered a stroke 10 days earlier, and had been in a coma. A special memorial service was held on April 10th in Toronto, attended by family, friends, bandmates, musician friends and fans. Ed Ringwald, aka Peewee Charles, recorded Amazing Grace especially for the memorial, a song which was a favorite to play for Terry and his family. If you'd like to hear Peewee's recording playing the dobro, with his good friend Shane Guse on fiddle, click here (mp3 file).
Lightfoot's first tour segment - starting March 15th - went on as scheduled, with a new lead player.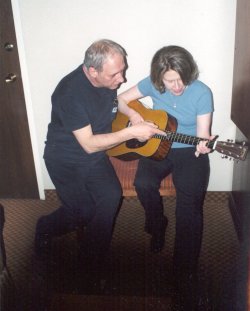 A very special guitar lesson
Photo ©2002 by Jenney Rivard

Terry joined the Lightfoot band in 1970; his first record with Lightfoot was Don Quixote in 1972. His lead solos have been a feature of Lightfoot's recordings and live shows for four decades. (In a recent cover of Sundown, Toby Keith's lead player does an admirable tribute to Terry). His skill with the flatpick placed him on the top rung of lead players; the next time you sit back to enjoy a Lightfoot tune, pay careful attention to the lead, and remember a great player.

Not only was Terry an extraordinary guitar player, but he was a lovely man as well. I will miss him. The personal photo here, taken after a show in 2002, is one which I will always treasure.

Hamilton guitar player Carter Lancaster replaced Terry Clements in the band. Read interview: Guitarist Carter Lancaster set to debut as lead Lightfoot guitarist in Greensboro.