Carter Lancaster will make his debut as Gordon Lightfoot's lead guitarist on Tuesday, March 15 at the War Memorial Auditorium. (courtesy photo)
For close to 40 years, Terry Clements stood in the middleground of Gordon Lightfoot's stage, playing beautifully economical lead, occasionally stepping out from behind the Canadian folk master for a tasteful solo. He was a key contributor to the lion's share of Lightfoot's most memorable songs and for decades, he was a faithful sideman, always putting the music first. On Feb. 20 Clements passed, less than two weeks after suffering a debilitating stroke. When Lightfoot's 2011 tour commences at Greensboro's War Memorial Auditorium on March 15, he'll have a new face trading licks with him.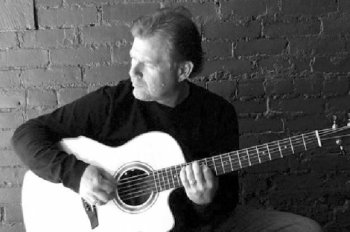 Y!W: How long have you been rehearsing with the band? CL: I was contacted initially about two years ago because I believe it was a PBS special that the band needed to do and they weren't sure if Terry was going to be okay for that or not. Gord knew me through Bob Doidge, who owned Grant Avenue where he had recorded his last two albums and I was a session player. I got called to rehearse once for that show, and Gordon seemed to like the way I played, so he had me come back for a few more rehearsals. Terry's health seemed to level out a bit, so I didn't rehearse for a year or so. Then probably about six months ago, Gord asked me to come down for a couple of rehearsals. We didn't do it every day, but it was once a month, every couple of weeks. A few months ago, we started going every week, and that was about the time that Terry's health started to fail.
Y!W: Did you find it at all unconventional that he brought in a fingerstyle player to replace a flat-picker with whom he'd worked so long?
CL: I do flat-picking as well as fingerstyle, I'm doing fingerstyle on this show because that's what I'm being asked to do. I don't know if Gord is trying to get back to the old Red Shea sound or really what his thinking is on it. I don't think it's strange because he has such a variety of music. Some of it sounds better fingerstyle, some of it sounds better flat-picked. I think to be honest with you, I think Gord is trying to give fans the same Gord Lightfoot sound he has for the last 30 years. I'm actually learning most of Terry's parts, but doing them fingerstyle.
Y!W: How much do you think you'll be featured in the beginning?
Is the dynamic going to change at all?
CL: I don't think the songs or the arrangements are going to change at all, and I would be very surprised if I was featured much. It's the first tour, and things might change later, but I don't know.
Y!W: Are you going to be playing any harp guitar during this your, or are you sticking with traditional six-string?
CL: No harp guitar, I'll be playing a Breedlove six-string acoustic and a '67 Gretsch Country Gentleman.
Y!W: Have you been working on alternative tunings for any songs? CL: No, Gord plays everything that I know of in standard tuning, and the only thing that changes is the position of the capo.
Y!W: I understand you've been getting a lot of e-mail support from his fans. What's the general message you've seen.
CL: The general message is that everyone is really saddened by the passage of Terry. I've never met him, but from what I understand, he was a real nice fellow as well as a terrific musician. It's very sad, I wish I could have met him, but never had the opportunity. I would say every email I've received and every posting I've seen, the fans have been really welcoming and they're really happy that someone's willing to step in and allow the Gord Lightfoot sound to continue on. Everything has been really positive, and that's a great thing.
Y!W: Is this still one of the more daunting assignments you've ever received?
CL: Well, I've had some pretty daunting ones. This is probably the highest profile though, but I've played some pretty challenging gigs. Probably the hardest I've ever played was with the Moscow Circus, and that was tough. It was a reading gig with an orchestra and we were playing these incredibly difficult pieces that we were sight-reading. It was all being led by a conductor who was watching a bear ride a bicycle across a tightwire. I'm just glad I don't have to make a living doing that.
Y!W: How many songs are you rehearsing right now? CL: I'd say off the top of my head about 50 or so. It's a lot to cram into this pea-sized brain, I'll tell you that.
Y!W: Is there a song or songs that you're most looking forward to playing live, in particular those that might most perceptibly bear your stamp?
CL: I think a lot of the hits I'm really looking forward to playing. "The Wreck of the Edmund Fitzgerald," "Sundown," "Carefree Highway," "Mention My Name," all of those great, great songs. It's just going to be a real hoot to be able to play those with Gord.