As an Amazon Associate I earn from qualifying purchases. I have a similar affiliate relationship with Barnes & Noble, Ticketmaster, StubHub & GoldStar.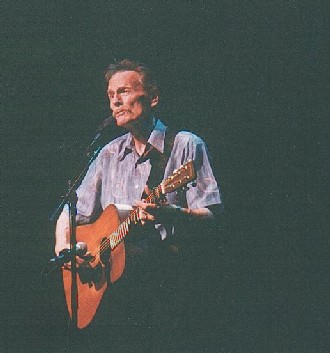 Gordon at Massey, May 2001
Photo ©2001, courtesy of Charlene Westbrook. Used with permission.
By Valerie Magee

June 1, 2001

Now, more than a week later, I will try to recapture the magic of the first of the Massey concerts - opening night, Thursday, May 24.

The audience, as on each of the subsequent nights, was a mixture of locals from Toronto and nearby, and of devoted Lightfoot fans who had made a "pilgrimage" from all over the US, Canada, and the world. In our own group of Internet fans, we had people from as far away as England, Ireland, Austria and Australia, and from as close as Toronto and its suburbs. As always when he performs "at home", there were many local friends and associates of Lightfoot, as well as his family. It may have been a packed theater with two balcony levels, but it felt a lot like being in his living room, lending credence to his repeated invitation to "Come into my house."

On this, the first night, he performed three of his four biggest chart hits - If You Could Read My Mind, Sundown, and Wreck Of The Edmund Fitzgerald, leaving Carefree Highway for the final evening. And, as he would on all three evenings, he opened with Triangle - one of his many songs about the sea, and a catchy tune played on one of his two 12 strings. On this night we heard the first of the two "rarities" from his boxed set that he performs frequently in concert - Thursday it was Heaven Don't Deserve Me. You can always recognize the people in the audience that don't have Songbook yet from the ripples of laughter you hear during this funny tune that we might never have heard at all, had Rhino not had the brilliant idea to do a four CD collection honoring Lightfoot.

Also in the first set, Lightfoot performed The House You Live In, a song that he has told us was his mother's favorite. And he followed up Don Quixote with another trademark song, Minstrel Of The Dawn, one that he does only occasionally in concert but that is definitely one of his finest. Click here for the full set list for Thursday's performance. See below for the other two nights.

This concert was notable for recognition and tributes. The first was in the first set - I think (corrections are welcome), when Lightfoot recognized John McDermott. McDermott is a member of the Irish Tenors, and is a well regarded solo artist as well. He just released a new solo album earlier this year - A Day To Myself - on which he covers two Lightfoot songs, Song For A Winter's Night and Home From The Forest. (As an amusing aside, CDNow describes the album as follows: "Splendid Personal album in which McDermott draws from the history of Irish & Scottish classics that brought him fame in his early career." - emphasis is mine). Gordon thanked John for recording two of his songs, and then went on to thank him for introducing his son to some hockey players at a recent game. John responded that the hockey players were probably even more thrilled to meet his son. It was a very sweet exchange between the two men.

And then, as the second song in the second set, Lightfoot honored Bob Dylan who was celebrating his 60th birthday that day. I could proudly claim that I predicted it; Lightfoot - in a preconcert interview published that day - refused to say whether he would be doing a Dylan song for the occasion. But, as I knew he would, he sang Ring Them Bells, a Dylan song that he included on his 1993 album Waiting For You.

Lightfoot sang all three of his new songs on Thursday (as he did Saturday), performing Shellfish (about "staying motivated") in the first set, and Night Time (about "home and family") and The No Hotel in the second. He followed up his usual passionate performance of If You Could Read My Mind with the title cut from his most recent original album, A Painter Passing Through, as he does at every concert. It is always brilliant and effective done in that sequence.

As is the case in every concert, Lightfoot's performance of Canadian Railroad Trilogy was magnificent. Written on commission to commemorate Canada's Centennial and performed for the first time on New Year's Day 1967, this 7 minute history lesson about the building of the Canadian Pacific Railway has to be one of the finest topical songs ever written. His performance of this song is always a concert highlight for me.

As he would on each subsequent night, Lightfoot performed Early Mornin' Rain as his encore, a song that has been recorded by a roster of performers that reads like a "Who's Who of Popular Music" - including Ian and Sylvia, Peter, Paul and Mary (who had a US pop hit with it), Mr. Dylan and even Elvis Presley.

It was a magnificent homecoming. Lightfoot and his band were performing superbly and the subtle additions to the production, such as new lighting effects, just made the impact all the more striking. And the best part was that there were still two more concerts to come.

---

Valerie Magee is the webmaster of this site and has been a Gordon Lightfoot fan for 25 years.

This article is copyrighted by Valerie Magee. Any publication or reproduction is strictly prohibited unless permission is obtained from the copyright holder.
---
IT infrastructure advisory and support services / Web sites / online stores by Valerie Magee of

&nbsp
Darien Cheese Francos Wine Merchants Harlan Estate & Bond Wines Len Goldstein Corporate and Business Law Denver



More music and musicians: Steve Gillette's Songwriter Website, Rick Dougherty, Huxtable, Christensen & Hood, Chad Mitchell Trio (hosting, maillng list, store), David Rea, Robin Batteau (Hosting & Email List), Rob Carlson & Benefit Street (Hosting, Email List, Store), Modern Man (store only; Rob is also the author of The Palatine Ship), Steve Goodman Biography, The Brothers Four, Steve Gillette & Cindy Mangsen (Cat Tales (Cat Songs), Steve Gillette's The Man), Fourtold, Bob Warren, World Folk Music Association (hosting, store), Hamilton Camp, Bob Gibson - Yes I See, Michael Jerling, Michael Jerling's Fool's Hill Music, Mike Quick, Doug Irving, Cathy Cowette, Spare Parts (Waltz Sheet Music, Civil War Music, Tango Music, English Country Dance Music, Old Tango Music CD, store)



©1998-2022 by Valerie Magee Privacy Policy / Legal