As an Amazon Associate I earn from qualifying purchases. I have a similar affiliate relationship with Barnes & Noble, Ticketmaster, StubHub & GoldStar.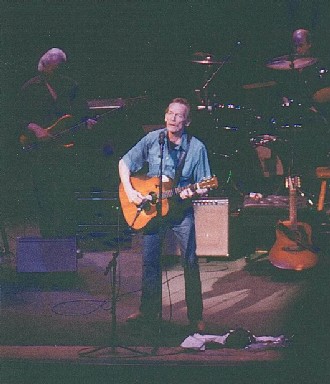 Gordon at Massey, May 2001
Photo ©2001, courtesy of Charlene Westbrook. Used with permission.
By Valerie Magee

May 28, 2001

On Saturday night, Gordon Lightfoot capped off three nights of concerts at Toronto's Massey Hall with a performance to remember. Performing songs written over 38 years, from 1963's For Lovin' Me to a trio of brand new songs, Lightfoot showed his audiences exactly what powerful songwriting is all about.

Of course he performed all of his biggest hits - If You Could Read My Mind, Sundown, Carefree Highway (which he doesn't do every night) and Wreck Of The Edmund Fitzgerald. And he sang other trademark songs which you can count on at every concert, songs like Canadian Railroad Trilogy, Beautiful, and Early Mornin' Rain. As on the previous two nights, he performed a shortened version of the song which was his first hit tune, reaching #1 on the Country Western charts for Marty Robbins in 1964 - Ribbon Of Darkness. Click here for the full set list for Saturday's performance. See below for the other two nights.

Each of the three nights had its musical and personal highlights, too numerous to list here. Perhaps the standout moment for me of all three concerts, however, was when Lightfoot said modestly early in Saturday's performance that he guesses that he "will be doing this for awhile longer". Anyone who was wondering whether Lightfoot was thinking of retiring any time soon can turn his speculations to other subjects. With new material like these three songs, and a plan to release another album - which would be his 20th album of original songs - Lightfoot will be far too busy to think about retirement.

The musical hightlight for me on the final evening was Lightfoot's performance of Sit Down Young Stranger, one of his most brilliant yet almost unknown masterpieces. Originally the title song of his debut album for Warner Brothers, it was quickly overshadowed by If You Could Read My Mind which became the standout hit of that album. But the gentle protest song remains one of Lightfoot's most beautiful songs and there were many fans in the audience who were thrilled to hear it live again. Lightfoot dedicated the song to the "Net people", commenting that he had received a "pretty ironclad request" for this song. As it turns out, at least two of the "Net people" other than I had independently requested the song. When I asked him on Friday night to please sing it on Saturday, Lightfoot had told me that he would. Knowing this, I had been able to predict to my friends when he would sing it. His performance was as beautiful and moving as I knew it would be.

After singing Don Quixote two songs later, Lightfoot commented with a smile that he had gotten the two Michael Douglas film rejects out of the way ... this a reference to the fact that the song "Hail Hero" was chosen for the movie, over the two far better songs. For the devoted fans who know this sort of trivia, it was a funny comment.

Another musical highlight was Lightfoot's performance of Restless, the opening track on his 1993 album Waiting For You. It was perhaps his best live performance of it ever; it was certainly the best one I have seen (of perhaps eight or more). At the end, the applause was loud and prolonged, and Lightfoot permitted himself a big smile.

Lightfoot saved all three new songs for the second set, and they were received with the same warm enthusiasm as at every other concert I have attended this year. My favorite of the three is The No Hotel, a song that he sets up perfectly by telling about being in Brazil with David Suzuki and Sting on a "Hug A Tree" mission (Save the Rainforests), and about one person staying at a cheaper "2 Star" hotel named The Nobo Hotel, except that the B and O in "Nobo" were burned out so it was The No Hotel. The song, with a playful almost calypso sound, is full of funny lines (Lightfoot quipped "if I remember the words"). He did.

He closed the final night with two encores and I can brag that I predicted it. How? When he left the stage after singing the final song of the second set, Old Dan's Records, Lightfoot carefully placed his Martin on the guitar stand, rather than walk offstage carrying it. So he had both his guitars still out there. That's when I said he would do two encores, Early Mornin' Rain (on the 12 string), a frequent encore and a song that he performs at every concert, and Cold On The Shoulder. The latter song is an occasional encore and he plays it with the capo on the third fret, just like Old Dan's Records. Lightfoot has frequently said that he doesn't believe in moving the capo more than once, because the guitar will get out of tune. All the rest of the songs he plays in concert on the Martin are with the capo on the second fret.

My last view of Lightfoot was signing autographs outside the stage door of Massey Hall at 12:15AM in the morning for a group of dedicated fans who had waited patiently to see him. He is definitely a unique artist, and we are very privileged to know him.


The author with Gordon after a concert earlier in May
Photo ©2001 by Jenney Rivard. Used with permission.

---

Valerie Magee is the webmaster of this site and has been a Gordon Lightfoot fan for 25 years.

This article is copyrighted by Valerie Magee. Any publication or reproduction is strictly prohibited unless permission is obtained from the copyright holder.
---
IT infrastructure advisory and support services / Web sites / online stores by Valerie Magee of

&nbsp
Darien Cheese Francos Wine Merchants Harlan Estate & Bond Wines Len Goldstein Corporate and Business Law Denver



More music and musicians: Steve Gillette's Songwriter Website, Rick Dougherty, Huxtable, Christensen & Hood, Chad Mitchell Trio (hosting, maillng list, store), David Rea, Robin Batteau (Hosting & Email List), Rob Carlson & Benefit Street (Hosting, Email List, Store), Modern Man (store only; Rob is also the author of The Palatine Ship), Steve Goodman Biography, The Brothers Four, Steve Gillette & Cindy Mangsen (Cat Tales (Cat Songs), Steve Gillette's The Man), Fourtold, Bob Warren, World Folk Music Association (hosting, store), Hamilton Camp, Bob Gibson - Yes I See, Michael Jerling, Michael Jerling's Fool's Hill Music, Mike Quick, Doug Irving, Cathy Cowette, Spare Parts (Waltz Sheet Music, Civil War Music, Tango Music, English Country Dance Music, Old Tango Music CD, store)



©1998-2022 by Valerie Magee Privacy Policy / Legal