As an Amazon Associate I earn from qualifying purchases. I have a similar affiliate relationship with Barnes & Noble, Ticketmaster, StubHub & GoldStar.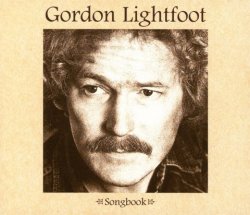 RE-ISSUE AVAILABLE:


SONGBOOK 4CD SET!


Buy from Val
Order today
Songbook Box Set: A Magnificent Anthology
Produced by Gordon Lightfoot and Thane Tierney
Where to begin? This has to be one of the most extraordinary Box sets ever.
Gordon Lightfoot Songbook is four CDs covering his entire career; 88 songs in total, including 18 that are rare or previously unreleased. As the title implies, The Gordon Lightfoot Songbook 1962-1998 contains only Lightfoot originals: the songs he considers his best. The two rare songs are both from 1962 and were previously released only on singles and on a rare LP called Early Lightfoot. They are Remember Me (I'm The One) and It's Too Late, He Wins. There are extensive liner notes with a long piece by Nicholas Jennings, who is the author of Before The Gold Rush (about Canadian music) and a new biography of Lightfoot to be released in September 2017, as well as lots of comments and notes on the songs from Lightfoot himself. And there are many photos as well, including several never published before.

Gordon Lightfoot Songbook Track Listing
Gordon Lightfoot Songbook Song Comments
Review
Gordon Lightfoot Songbook
Dirty Linen Review


Buy from Val


Amazon.com


Amazon Canada


Amazon UK
Songbook contains all of Lightfoot's big chart hits (If You Could Read My Mind, Sundown, Carefree Highway and Wreck Of The Edmund Fitzgerald), all of his great songs that were chart hits for others or are simply well-known (Ribbon Of Darkness, Early Mornin' Rain, For Lovin' Me, Alberta Bound), selected songs from the four albums that have not (yet!) been released on CD (17 of them, of which 14 are not available on any other CD including classics like Hi'Way Songs and In My Fashion), dozens of other truly magnificent songs from throughout his career (Canadian Railroad Trilogy, Song For A Winter's Night, Sit Down Young Stranger, Rainy Day People), the two rare songs from 1962 (mentioned above), and 16 songs that were never released before. This has to be a "must buy" for anyone who has ever thought "I should buy some Lightfoot music", and also for everyone who has already taken home one or more of his albums.
All of the songs that were previously released were taken from original albums. That means that none of the recordings are re-recordings from either Gord's Gold album. So, in every case, you are hearing Lightfoot's original interpretation of the song. And, the two Gord's Gold collections don't totally duplicate what is here, so a true fan would enjoy having both. (There is actually one exception: The Circle Is Small is taken from his second studio recording, for the album Endless Wire. This is the version that charted. The first recording was on the United Artists album Back Here On Earth).
Every song is a Lightfoot original; that is, all the songs were written by him. That means that a few wonderful covers that you may have enjoyed aren't here. But the choice was made to stick to original songs and, with a catalog like his, there are still too many to fit on four CDs.
These are the songs that Lightfoot considers his very best. But, there is at least one shocking surprise, at least to me, and that is the omission of Minstrel Of The Dawn. Investigation suggests that Lightfoot didn't like the recording of the song for some reason; not that he doesn't rate the song among his best. And, if you've written and recorded as much quality material as he has, you would certainly be entitled to a judgment like that.
And, of course, there are a few other favorites of mine that are not here, but that would be true of anyone. In any collection like this, choices must be made, and considerations like the total time per CD, and the number of songs per original album, would probably introduce other constraints of which we aren't aware. The point is that of 70 songs (the ones that are not rare or previously unreleased), I see only a very few others that I would have included on my list. The collection contains more than 90% of what I personally would have chosen. That is great! No two people would ever agree on their top 70 songs by any artist.
The two songs from 1962 will be a real treat for any long time fan. They are not in the Lightfoot style, as we all know and love it. But they are sweet songs and the voice! Well, enough said. They were written and recorded just before his singing and songwriting had evolved to what is now referred to as "Lightfoot style."
And the new songs, 16 of them, will surprise and delight. How many times have you bought a collection with "previously unreleased" tracks, only to find out when you got home that there was a good reason that the songs weren't released before: the songs weren't very good, or very different from that artist's other songs. But wait until you hear the songs here! Every one of them is a really good song, and some are truly magnificent. In fact, I can't believe that songs like these have sat in the vaults so long and I only hope that the price of a Box set doesn't keep people from hearing them. (Does Rhino ever issue singles? If not, there's no time like the present to start).
One of the real jewels among these new songs is Too Much To Lose, a delightful country song which was actually mistakenly released on some 8 tracks and cassettes of the Old Dan's Records album. Since there was this mistaken release (and recall, of course), some copies of the song have been out there and a number of Lightfoot fans have heard it - and loved it - before. I happen to think that the song contains one of his most brilliant and poignant metaphors:
"Forgiving is to lovers as trusting is to fools"
Chills, anyone? In the liner notes, Lightfoot has this to say about Too Much To Lose:
"It was up for a Paul Newman movie, Cool Hand Luke, but they didn't want it. I guess after that I didn't want it either. It's one of the coolest songs we got out of the vault."
Absolutely.
Another magnificent song is is Forgive Me Lord. I had the privilege of hearing this song in concert many times starting in the early 1980s. I remember looking for it when Salute came out, and again when East Of Midnight came out, being disappointed both times. It remained the one Lightfoot song that I knew I loved but that I thought I would never hear again. Thank you Rhino. (And thank you Gordon, for bringing it back to your concerts in 1999).
I will leave it to each of you to savor the treasures among the other previously unreleased songs, but I have to comment on a few that became instant favorites of mine. First, the two songs at the end of disc 1: Mama Said and Station Master. Mama Said is a delightful tune about his mother's influence on his music career; this song can't fail to bring a smile to your face. Station Master is Lightfoot's most Dylan-like song, as he says in the liner notes. It's a nice mixture of two songwriting geniuses with Lightfoot's unique singing style thrown into the mix (no pun intended).
Then there is Heaven Don't Deserve Me, recorded the day before Too Much To Lose and in a similar style. Other favorites of mine are Stone Cold Sober, Borderstone and Keepin' On Yearning.
The other previously unreleased songs on this collection are: A Message To The Wind, You'll Still Be Needing Me, Betty Called Me In, Canary Yellow Canoe, Never Say Trust Me, Why Should I Feel Blue, Always On The Bright Side and Lifeline. Again, it is hard to believe that such exceptional songs have never been available before.
Follow the link for track notes with details and credits for every track in the collection.
Click here (Songbook - Gordon Lightfoot) to preview or download all the songs on the box set (including the previously unreleased songs) at iTunes. You do not need to install iTunes to hear the previews (at least on a computer). Any other clips on this webpage, of songs released before Songbook, are from the original album and not from the box set.


Buy from Val


Amazon.com


Amazon Canada


Amazon UK