MacKenzie Theater, Confederation Centre
A Musical Tribute, Opens in Charlottetown June 24
June 14, 2002 (updated July 3 and August 28)
The world premiere of If You Could Read My Mind: The Music of Gordon Lightfoot, a musical tribute, headlines this summer's playbill at The Charlottetown Festival's MacKenzie Theatre at the Confederation Center of the Arts. The show, which opened on June 24, will run through August 31. Lightfoot himself will be in Charlottetown for a concert on September 18 at the Civic Centre.
The venue is fitting, as it was here in 1864 that the Fathers of Confederation met to discuss the creation of the country we know as Canada - and which we know that much better because of Lightfoot. The Confederation Centre of the Arts is Canada's only national memorial to the Fathers of Confederation. The Charlottetown Festival has been the home of Anne of Green Gables - The Musical™, Canada's longest running musical, which returns in 2002 for its 38th consecutive year.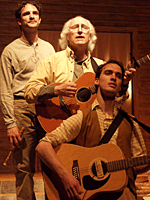 The Lightfoot musical, a cabaret-style show, will include more than 25 songs, and will feature five leading members of The Charlottetown Festival ensemble. It was co-created by Duncan McIntosh, artistic director of the Charlottetown Festival, and Canadian writer Michael Lewis MacLennan. McIntosh will also direct. The songs, classified as "Traveling", "Love", "Ballads", and "Overview", include all of the hits (of course) as well as a wonderful selection of his other well known and not so well known songs.
In the theater's February press release, McIntosh is quoted as saying:
"Gordon Lightfoot has composed more beautiful and significant love songs than any Canadian who ever lived. His ballads define, musically and emotionally, our lives as Canadians. His travelling songs place us in our Canadian context – where everywhere is a long journey away - more accurately than those of any other composer."
Well said.
Read an article about the show - "In Touch With His Music" - on the CBC web site.