As an Amazon Associate I earn from qualifying purchases. I have a similar affiliate relationship with Barnes & Noble, Ticketmaster, StubHub & GoldStar.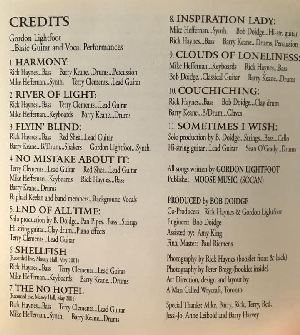 (Reviewed 6/20/2010) — Harmony is the long awaited 20th original album, and was released on May 11th 2004. Lightfoot had recorded his guitar and vocals in the studio prior to falling ill in September, 2002. While he recovered, this new CD was produced using the vocal and rhythm guitar tracks Lightfoot had previously recorded as demos, with his band and producer Bob Doidge recording the additional tracks while Lightfoot was still recovering. Doidge and bass player Rick Haynes get production credits, in addition to Lightfoot.
"Harmony" was recorded and mixed at Grant Avenue Studio in Hamilton, ON, except for the two live tracks which were recorded during the May 2001 Massey Hall series of concerts in Toronto, also by Doidge.
Doidge, owner of Grant Avenue Studio, has been a big fan of Lightfoot for decades, and has been recording Lightfoot since his last Warner Brothers album, A Painter Passing Through, including the audio for the Live In Reno DVD, and all Massey concerts starting in the late 1990s. Lightfoot's illness and long recovery gave Doidge the opportunity to play on a Lightfoot record, an opportunity he much appreciated.
While still hospitalized, Lightfoot asked Bob to do an arrangement for one of the songs, and liked it so much he asked Bob to do another. On the first of them, The End of All Time, Bob played all the added parts other than the lead guitar, which Terry Clements played. On Sometimes I Wish, Bob played everything. He also did an arrangement for Clouds of Loneliness, but Gord subsequently discovered that he had done an arrangement himself prior to being hospitalized, so his was used with the band playing their usual parts, but Bob's nylon string part from his arrangement was kept for the final recording.
Five decades into his career, Lightfoot still has the muse, as he says. He continues to write and record new songs that will stand the test of time, with interesting melodies and moving lyrics. Standout songs include the title track, "Harmony," "Inspiration Lady," "River of Light," "The No Hotel" (live from Massey), and "Flyin' Blind," in addition to those mentioned above.
Update: July 13, 2019 - In October, 2018 Lightfoot found recordings of additional songs, also from those same demo recordings; material that was not included in the recordings that Doidge and Lightfoot's band had available to them. According to Lightfoot, he had forgotten about these recordings and only found them by accident when cleaning his office. There were enough songs for another new album, and it was released in March of 2020, with one newly written and recorded song. Read about Solo.
Read a review from the UK


Buy CD from Amazon


Buy MP3 album from Amazon.com (US)


Buy CD from Amazon.ca (Canada)


---
IT infrastructure advisory and support services / Web sites / online stores by Valerie Magee of

&nbsp
Darien Cheese Francos Wine Merchants Harlan Estate & Bond Wines Len Goldstein Corporate and Business Law Denver


Another Folk Artist: Bob Dylan
More music and musicians: Steve Gillette's Songwriter Website, Rick Dougherty, Huxtable, Christensen & Hood, Chad Mitchell Trio (hosting, maillng list, store), David Rea, Robin Batteau (Hosting & Email List), Rob Carlson & Benefit Street (Hosting, Email List, Store), Modern Man (store only; Rob is also the author of The Palatine Ship), Steve Goodman Biography, The Brothers Four, Steve Gillette & Cindy Mangsen (Cat Tales (Cat Songs), Steve Gillette's The Man), Fourtold, Bob Warren, World Folk Music Association (hosting, store), Hamilton Camp, Bob Gibson - Yes I See, Michael Jerling, Michael Jerling's Fool's Hill Music, Mike Quick, Doug Irving, Cathy Cowette, Spare Parts (Waltz Sheet Music, Civil War Music, Tango Music, English Country Dance Music, Old Tango Music CD, store)



©1998-2022 by Valerie Magee Privacy Policy / Legal