May 29, 2014 — When the new audiophile 180 gram "Sundown" was announced earlier this year, I knew I wanted to hear it. There was just one problem: I don't have an audiophile system. In fact, I have no system at all (we listen to CDs and digital recordings through our TV, or on headphones). My son has the only working record player in the family, and he is 1800 miles away.
I thought about who I knew who might have an audiophile system, or know someone who does. I was lucky that a good friend just happens to know the owner of an independent record store, and he not only agreed to help out; he invited me to his home to listen with him.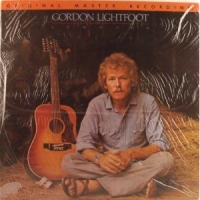 To make the experience even better, I had my son send me my sealed copy of the Mobile Fidelity Sound Labs recording of "Sundown", released in 1979. I had the album back then, but I had purchased a sealed copy for my collection. The opportunity to listen to different versions of the same album on high-end equipment was a once-in-a-lifetime thing, and a suitable situation for unsealing the album.
So, on the appointed day, two weeks after Record Store Day, my husband and I went off to visit, with the 2014 Record Store Day "Sundown," The 1979 MFSL "Sundown", the 2013 Record Store Day, "Sit Down Young Stranger" (which is the "If You Could Read My Mind" album under its original title), and the new album by Neil Young, "A Letter Home," which has two Lightfoot covers, and was recorded in a 1947 "record booth" (a lot like photo booths you find at state fairs and amusement parks), yet manufactured on 180 gram vinyl!
Our host was most excited about hearing the MFSL album — which he had sold in his store multiple times, but did not have in his collection and had never heard. So, at his request, we listened to it first. Of course, that was probably a mistake, because after that, nothing sounded really good. The depth of the bass, the warmth of the sound, and naturalness of the treble, with none of the shrillness of CD reproduction, were obvious even to me — not an audiophile expert by any means.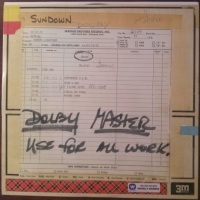 We listened to the Record Store Day "Sundown," and it was nice, but did not compare to the MFSL. We also listened to the song, "Sundown", on the boxed set, "Songbook" — the best version on CD* — and yes it was nice, but the RSD version had the sound of vinyl that just can't be duplicated digitally. The RSD version of "Sit Down Young Stranger" album was beautiful — perhaps a touch better than the "Sundown"; and since there had never been a quality remastering of the full album, it's definitely worth having a copy of this record too.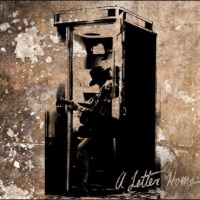 Finally, we put on the Neil Young record. It is quite an experience listening to a monaural recording with clicks, pops and hisses, on a high end audiophile system. I'm afraid I don't quite understand why they actually issued this on a 180 gram vinyl record! It is also available on CD and as digital downloads, and in a box set with all versions (read more here), where the record's artifacts will sound just as incongruous. Young does some really wonderful cover versions, and I for one wish he would do a proper recording in a modern studio. I don't regret buying the record, but I would certainly buy a proper CD should it ever be recorded. We shall see. Neil's devoted fans will certainly buy this, and others will too, to hear Neil's take on some wonderful songs written by his songwriting idols, but as far as I am concerned these songs deserve to be recorded using 2014 recording equipment.
The two Lightfoot Record Store Day albums were released for that event only, and only in Canada. I have purchased a few of them for resale, and will continue to look for copies. When I have one that is not spoken for, I will list it in the store. The MFSL "Sundown" has been sold online for years, always commanding a big premium. New copies are very expensive; I treated myself to one, which is no longer sealed and has been played once, but I plan to keep it. I may try to get a few used copies for sale. Watch the store for that as well.
*The cut of "Sundown" on "Complete Greatest Hits" is magnificent too, but it was from the single mix, with harmony vocals, so while it is great, it would be comparing different mixes, not just different mastering. All the 1999 through 2002 Lightfoot reissues were remastered by Rhino's Bill Inglot, acknowledged to be one of the best in the business.
I received a copy of the RSD "Sundown" from the record label, Warner Canada; I bought the other recordings with my own money - and have no regrets.