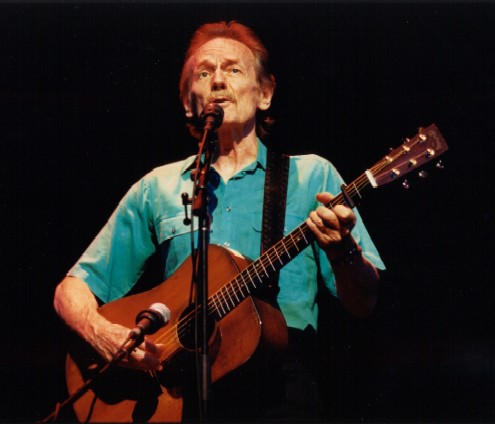 Photo ©2000 by Hiroyuki Ito. Used with permission.
August 4, 2000
The Vietnam War was escalating and Manhattan's Times Square was a derelict crime-plagued neighborhood the first time Gordon Lightfoot performed at New York City's Town Hall in 1965. In those days, Canada's premier singer-songwriter would frequently come down from his Toronto home to the happening Greenwich Village scene to hang out at the Kettle of Fish pub with the likes of Phil Ochs, Ramblin' Jack Elliot and Joan Baez.
"Being in New York was great. I could see a lot of good artists in the New York area, not to mention the after hours partying," Lightfoot recalls.
So Canada's premier singer-songwriter is in for quite a surprise of flashing neon and jockeying tourists next Wednesday (Aug 9) when he returns to the historic Midtown music hall for a special one night performance - his first concert in New York City in more than six years.
"I've been feeling really excited about going to back to Town Hall," says the 61-year-old troubadour. "For the last few years we've been playing out on Long Island (at Westbury Music Fair) which is great, but it's also good to get back to the city."
See the upcoming schedule at Town Hall NYC
See Gordon on May 15, 2019!
Lightfoot last played Town Hall in 1968.
The concert comes during a particularly good run for Lightfoot, composer of sea chanteys, folk tunes and such classic ballads as "If You Could Read My Mind" "Early Morning Rain" and the 1973 No. 1 soft rock hit "Sundown." Last year, "If You Could Read My Mind" was remade into a dance hit featured in the film "Studio 54." And last week, the Martin Guitar Co. named a special custom made guitar after him, putting the Canadian in such rarified company as Eric Clapton, Johnny Cash, and Paul Simon.

"For nearly 40 years, Gordon Lightfoot has been the musician's musician," said Martin spokesman Dick Boak. "Few can match his success as a songwriter, recording artist and performer."
As with other signature models, a portion of the proceeds goes to the charity of the artist's choice - in Lightfoot's case, the Gordon Lightfoot Scholarship Fund at Great Lakes Maritime Academy, a division of Northwestern Michigan College. It's the home to the only officer training program for fresh water maritime ships in the United States. Lightfoot established the fund in 1976 to help prevent shipping disasters like the sinking of the Edmund Fitzgerald, a tragic tale he chronicles in his 1975 docu-song "The Wreck of the Edmund Fitzgerald."
The limited edition quilted mahogany guitar is being made according to Lightfoot's own specifications, Boak said. Only 61 Martin D-18 GLs are being made (in honor of Lightfoot's age), and they were snapped up immediately by fans. Boak said the company could have easily sold hundreds.
Lightfoot said during a phone interview that he was pleased to be honored and to provide little details of the 6-string 1948 Martin D-18 he bought in Nashville years ago and still uses on stage today.
"It was fun. I'm actually quite interested to see what it will sound like."
Lightfoot is also pleased with the sound of his latest major project, a four CD boxed set that represents nearly four decades of his work, including never released tunes. The collection traces his origins in the late 1950s as a warm baritone trying his hand as a country crooner, through his development as a master craftsman of songs that celebrate Canada's natural resources as well as the universal themes of lost love and redemption.
Lightfoot is also proud that his compositions have been covered by Elvis Presley, Barbra Streisand, and his friend Bob Dylan. Frank Sinatra was once interested in recording a Lightfoot song (Lightfoot was on Sinatra's label Warner/Reprise) but the Chairman of the Board couldn't quite grasp the folk feel of the tune, Lightfoot laughs.

Like Times Square, Lightfoot will also be more electrified than his last acoustic Town Hall performance in 1968. This time he will be backed by his unnamed, tight four piece band including keyboardist Mike Heffernan, drummer Barry Keane, lead guitarist Terry Clements and bassist Rick Haynes.
There are few honors left for Lightfoot in his native country. He was inducted into the Canadian Music Hall of Fame in 1986, and in 1997 received the Governor General's Arts Award, Canada's highest creative arts honor. In America he's earned five Grammy nominations, three Platinum and nine Gold records.
On tap this year is a taped live concert special scheduled to air on PBS in December. And perhaps a new studio album, his 20th. "I'd like to make one more." Approaching 62, he concedes "it's probably tougher now, trying to get your head into it. But the main thing is the ideas are there."
But touring is definitely in his future plans, including playing his time-tested gems like "Beautiful", "Softly" and "Carefree Highway."
"Fortunately, they've got such a life of their own, it's possible to perform them night after night and never get tired of them," Lightfoot explains.
In truth, Lightfoot could add songs from his catalog that haven't been played in years and do a new show every week. One can only hope.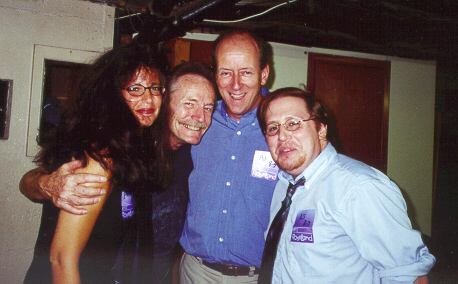 The author, at right, with his friends and GL after the concert
Photo by Jenney Rivard
---
Eric J. Greenberg is an award winning New York investigative reporter who has been interviewing Lightfoot for nearly 25 years.

This article is copyrighted by Eric J. Greenberg and Valerie L. Shainin. A version of this article was published in Newsday on August 9, 2000. Any publication or reproduction is strictly prohibited unless permission is obtained from the copyright holders.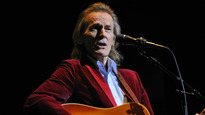 Gordon is touring in 2023.

Check here for Gordon Lightfoot tickets listed on
Ticketmaster.com (US)
Ticketmaster.ca (CA)
Check for Gordon Lightfoot resale tickets on
StubHub
. Prices may exceed face value.
---
IT infrastructure advisory and support services / Web sites / online stores by Valerie Magee of

&nbsp
Darien Cheese Francos Wine Merchants Harlan Estate & Bond Wines Len Goldstein Corporate and Business Law Denver



More music and musicians: Steve Gillette's Songwriter Website, Rick Dougherty, Huxtable, Christensen & Hood, Chad Mitchell Trio (hosting, maillng list, store), David Rea, Robin Batteau (Hosting & Email List), Rob Carlson & Benefit Street (Hosting, Email List, Store), Modern Man (store only; Rob is also the author of The Palatine Ship), Steve Goodman Biography, The Brothers Four, Steve Gillette & Cindy Mangsen (Cat Tales (Cat Songs), Steve Gillette's The Man), Fourtold, Bob Warren, World Folk Music Association (hosting, store), Hamilton Camp, Bob Gibson - Yes I See, Michael Jerling, Michael Jerling's Fool's Hill Music, Mike Quick, Doug Irving, Cathy Cowette, Spare Parts (Waltz Sheet Music, Civil War Music, Tango Music, English Country Dance Music, Old Tango Music CD, store)



©1998-2022 by Valerie Magee Privacy Policy / Legal