As an Amazon Associate I earn from qualifying purchases. I have a similar affiliate relationship with Barnes & Noble, Ticketmaster, StubHub & GoldStar.
Sweetheart of the Rodeo 50th Anniversary Tour
(September 19, 2018) - Last night I attended the Sweetheart of the Rodeo concert at The Egg in Albany, NY. It was one of the first few concerts announced in June, and I jumped at the chance to go. Eventually, a second night was added (the prevoius night), and over time a growing number of concerts have been announced around the country. I don't know who conceived of this concert tour, but it was a brilliant idea!
With the well-known tensions between Roger McGuinn and Chris HIllman on the one hand, and David Crosby on the other, the hope of a true Byrds reunion dwindled, but someone came up with the idea of celebrating the 50th anniversary of this one album. It was not one of the most popular Byrds albums, and was recorded after the departure of Crosby. It was a departure from their established style, and remained largely unknown for many years, but over time it has gained recognition as a major influence on the development of country rock.
The Sweetheart of the Rodeo Tour features McGuinn and Hlllman, as well as well-known country music performer Marty Stuart and his band, the Fabulous Superlatives. (Gram Parsons, who passed away in 1973, was the third lead performer on the album, his only recording with the Byrds, although he teamed with Chris Hillman in The Flying Burrito Brothers following his brief stint with The Byrds).
The set list for the anniversary tour includes the songs and stories connected to the album they are celebrating, but — not clearly stated in the official tour material — also includes a selection of The Byrds' biggest hits. This became obvious with the first notes of the first song, Dylan's "My Back Pages," the usual opening song of Roger's solo shows. The two most well known Byrds' songs, "Mr. Tambourine Man" and "Turn, Turn, Turn," also made their appearance, and were well received (See the short video clip).
"Turn! Turn! Turn!" Excerpt
Turn! Turn! Turn! (excerpt) - Sweetheart Of The Rodeo Tour.
Sadly, the Sweethearts of the Rodeo tour was not renewed for 2019. I would go see them again!
Rare Studio Recordings including The Byrds from Jim Dixon's Archives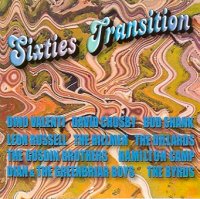 December 23, 2011 - Sixties Tradition is an extraordinary CD with rare studio recordings from the archives of noted L.A. record producer and the father of the folk-rock sound, Jim Dickson (Byrds, Flying Burrito Brothers and others). Based on the rare Together Records album "Early L.A." the highlights include early Byrds recordings, the first, never before released recording of the 60s peace anthem, "Get Together" by its composer, singer Dino Valenti (later of Quick Silver Messenger Service) and Hamilton Camp & The Byrds with a newly discovered 1965 studio recording of Dylan's "The Times They Are A Changin'". Other tracks include a rare instrumental recording by David Crosby (The Byrds, CSNY) and jazz musicians Bud Shank and Joe Pass, "Charisma", other early Crosby recordings, and Hillmen recordings (with Chris Hillman), along with never before released bluegrass-rock recordings of the original Dillards. I am selling this CD on the Hamilton Camp site because of the extraordinary "new" Hamilton Camp recording, but the album should be of interest to many others who are interested in the origins of folk rock, and the early recordings of some of the finest artists of the period.
Live Byrds Album From London in 1971
A then "new" live Byrds performance from 1971 was first released on CD in May 2008: The Byrds Live at Royal Albert Hall 1971.
This Byrds incarnation features Roger McGuinn, legendary guitar player Clarence White, bassist Skip Battin and drummer Gene Parsons in front of an enthusiastic London audience at the venerable Royal Albert Hall. Thankfully, Roger had this recording safely stored, and it will now be available for all of us to enjoy, not only on CD, but also on vinyl. You may also download it as an MP3 album.

Roger McGuinn 2008 Live From Spain
Following close on the heels of the Live Byrds album, Roger released a live solo album, Live from Spain, available on both CD and vinyl LP.
Roger McGuinn and The Byrds: Signature 7-String Martin Guitars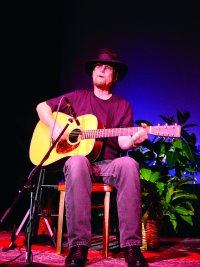 February, 2005 - Martin Guitar has announced the Roger McGuinn Special Edition guitar, the HD-7, based on the HD-28V, a herringbone vintage Martin. But this is a really unique guitar because it is a 7-string; it's a 6 string guitar except that the G string is doubled, like on a 12-string guitar. Roger McGuinn, of course, is the founder of The Byrds, and has enjoyed a long, creative solo career as well.
For those of you who don't play guitar, a 6-string guitar has the strings (normally) tuned to E-A-D-G-B-E; a 12 has a pair for each "string"; both strings in the pair are tuned to the same note, but on the E through G pair, one string is lighter and is tuned an octave higher. On the HD-7, only the G string has an octave pair.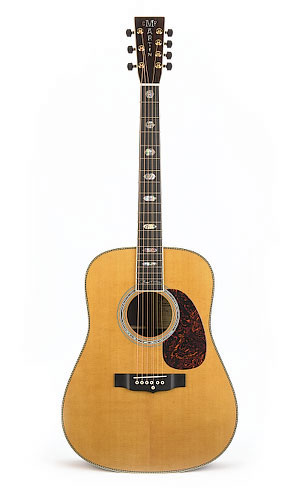 The key to this guitar is that, with the doubled G string, one can play the trademark McGuinn "jingle-jangle" sound (think Tambourine Man or Turn, Turn, Turn), yet still have the flexibility of a 6 string; a "Swiss army knife" of guitars, as Roger calls it. Be sure to read the article below for Dick Boak's comments on this interesting guitar.
You can read the article at the Martin Guitar website on pages 24 and 25 of the January 2005 edition of their Sounding Board newsletter here (PDF format with additional images).
Dick Boak at Martin tells the story of how the Roger McGuinn HD-7 guitar came about: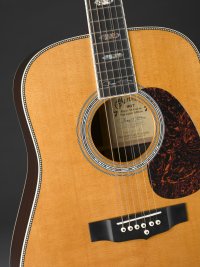 "Having done a very special D12-40RM 12-String Roger McGuinn Limited Edition Martin Guitar project in 1999, I had developed a great friendship and working relationship with Roger and his wife Camilla. They would often stop in at Martin while on tour. One day, Roger came by and selected a lovely HD-28V 6-string guitar and soon, he had added it to his acoustic repertoire.
Many months later he and Camilla stopped in again and while we were having lunch together, he explained an idea that he had for a 7-string guitar. He was planning a few extended tours to Europe and didn't relish the idea of having to carry several guitars, especially onto planes and through airports.
He had always felt that the most powerful element of his 12-string guitar was the highly tensioned pair of G strings. His songwriting and guitar technique had long taken advantage of these G strings for special "jingle-jangle" lead runs. His idea was to add the double G strings to a conventional 6-string guitar. We sketched out some headstock and bridge diagrams on a napkin and after his departure, I proceeded to hash out the finer details for a special Custom HD-28V 7-string.
When the instrument was completed, I strummed it and was amazed at how powerful the guitar was. It was so much fun to play. Leon Redbone saw it the following day in my office and was equally amazed. When Roger received it, he too was taken aback by its power and enhanced tone. He said that it had all of the best attributes of both the 6-string and the 12-string models — a veritable "Swiss Army Knife" of guitars.
It was a no brainer that this idea was something that could and should be embraced by a wider audience. Roger and I went back to the drawing board and put together specifications for the Limited Edition HD-7 Roger McGuinn 7-string model, and I must say that it certainly exceeds all expectations as to what an acoustic guitar can be!"
Dick Boak
Artist Relations, Limited Editions
C. F. Martin & Co. (The Martin Guitar Company)
Web: martinguitar.com