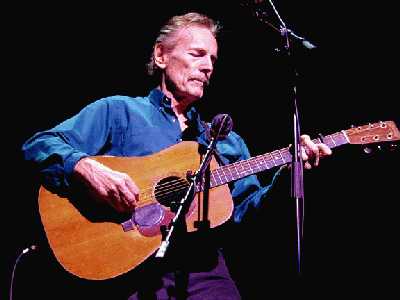 In Concert, April 2000. Photo by Brian Leviel

Click here for the set list.
April 4, 2001 - Gordon Lightfoot was the final performer at last night's Legendary Songwriters Acoustic Concert, part of the Nashville Songwriters Association International's annual Tin Pan South Festival. This year's concert was held as usual at the Ryman Auditorium in downtown Nashville.
For this acoustic performance, Lightfoot was accompanied by lead guitarist Terry Clements and bass player Rick Haynes, both long time members of his band. For one song, Knotty Pine, Lightfoot performed solo.
In a characteristic performance he said little, and mainly did what he has been doing so well for four decades - singing. His choice of songs was also characteristic, opening and closing with trademark songs, Don Quixote, If You Could Read My Mind, and Early Mornin' Rain. But he mixed in several of his newer songs, including two that he has just written, reminding everyone that he is still at his trade. He also sang Ribbon Of Darkness, which was a #1 hit for Marty Robbins. Lightfoot had just started performing it again this month, probably in anticipation of this visit to Nashville.

In addition to Lightfoot, other artists performing were host Merle Kilgore, Andrew Gold, Ray Parker, Jr., Donna Summer and Sharon Vaughn.