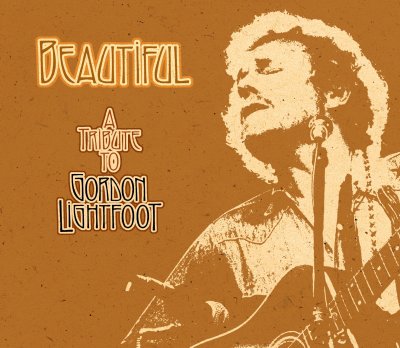 Beautiful: A Tribute To Gordon Lightfoot
1. The Way I Feel (Cowboy Junkies)
2. Sundown (Jesse Winchester)
3. Drifters (Ron Sexsmith)
4. Ribbon Of Darkness (Bruce Cockburn)
5. Go Go Round (Blue Rodeo)
6. Summer Side Of Life (Blackie and the Rodeo Kings)
7. If You Could Read My Mind (Connie Kaldor)
8. For Lovin' Me (Terry Tufts)
9. Bend In The Water (Harry Manx)
10. Black Day In July (The Tragically Hip)
11. Home From The Forest (Murray McLaughlan)
12. That Same Old Obsession (Maria Muldaur)
13. Canadian Railroad Trilogy (James Keelaghan)
14. Song For A Winter's Night (Quartette)
15. Lightfoot (written and performed by Aengus Finnan)

August 15, 2003; last updated September 26, 2015
Two Canadian labels, Borealis Records and NorthernBlues, combined forces to release a tribute to (in their words) "Canada's greatest songwriter, Gordon Lightfoot".
The CD, titled "Beautiful: A Tribute to Gordon Lightfoot" was originally scheduled for release on October 7, 2003 but was released a bit before that. It is available in Canada, the United States, and a number of overseas markets.
The CD includes covers by The Tragically Hip, Blue Rodeo, Ron Sexsmith, Cowboy Junkies, Murray McLauchlan, Jesse Winchester, Terry Tufts, Connie Kaldor, James Keelaghan, Blackie & The Rodeo Kings, Harry Manx, Quartette, Maria Muldaur and Bruce Cockburn. The final song, by Aengus Finnan, is called "Lightfoot" and is his own original tribute to the songwriter.
"Beautiful" was executive-produced by Colin Linden, and includes a 20-page booklet. A special series of events was held to coincide with the release of "Beautiful".
Read more about the CD at the NorthernBlues web site here, the Billboard article also at their site here and my own review below. In some browsers, the track listing, above, has links to Amazon where you can listen to clips of the songs, or buy individual songs or the full album. If the song titles are not links, just use the "More Info or Buy" button for the MP3 album.
Beautiful, A Tribute To Gordon Lightfoot
Review by Valerie Magee
September 22, 2003
In the Internet way, I first heard the new tribute CD in typical 2003 style: listening to mp3s ripped from a CD. Before you report me to the record company, I have an explanation. My CD was sent to my Saratoga Springs, NY address - the only one where I can receive mail. But I was spending the week in Connecticut. So, not able to bear waiting until the weekend, I had my son rip the tracks, thoughtfully dropping them on my PC so I could listen to them. Ah the wonders of high speed connnections!
So, I first listened to the mp3s, ripped at 224 kbps, played through small Altec Lansing computer speakers, and not to the actual CD played on a home stereo system, or even on a midrange car system. But, even with that limitation, it was apparent from the start that this is a wonderful CD, full of creative and well executed covers of Lightfoot tunes. Some of the songs are obscure - in some cases only a devoted "Lighthead" would know them - and some of the renditions are not my "cup of tea", but that is not surprising with any multi-artist, multi-style collection of covers.
First, although this is the first multi-artist Lightfoot tribute album, this is certainly not the first full album of Lightfoot covers. Over the years a number of artists have had the wisdom to record albums of Lightfoot songs, ranging from country artists like George Hamilton IV or Mac Wiseman, to bluegrass giant Tony Rice. There have even been a few instrumental albums of Lightfoot songs, the most recent just a couple of years ago. And actually, there were a couple of Internet Tribute CDs, with performances by many amateur and professional musicians, but not artists as well known as these.
So it is amazing that an album like this - with recordings by name artists - has not been done before now; it is long overdue. There was at least one project of this kind in the mid-90s; one that did not ever come to fruition, and reportedly included a Dylan cover. So this Lightfoot tribute album is a good step toward filling a very big void. My one disappointment is that the album is almost exclusively a Canadian tribute, with only one American on the roster.
The songs chosen - there are 14 of them, plus an original tribute song by Aengus Finnan - essentially cover Lightfoot's entire career, but concentrate heavily on the earlier period. From four studio albums released between 1966 and 1969, these artists have chosen eight songs: The Way I Feel (Cowboy Junkies), Ribbon Of Darkness (Bruce Cockburn), Go Go Round (Blue Rodeo), For Lovin' Me (Terry Tufts), Black Day In July (The Tragically Hip), Home From The Forest (Murray McLaughlan), Canadian Railroad Trilogy (James Keelaghan) and Song For A Winter's Night (Quartette). Two big hits from his Warner/Reprise years - If You Could Read My Mind (Connie Kaldor) and Sundown (Jesse Winchester) are included - as well as four additional songs highlighted by Ron Sexsmith's excellent cover of Drifters, from Lightfoot's 1998 album A Painter Passing Through. Summer Side Of Life (Blackie and the Rodeo Kings), Bend In The Water (Harry Manx) and That Same Old Obsession (Maria Muldaur) complete the roster.
The hands down highlight of this album for me is James Keelagnan's version of Canadian Railroad Trilogy. And not because this is my favorite Lightfoot song (it is), but because this is a cover that is both the artist's own and yet faithful to the feel of the original. That isn't mandatory, of course, but that is definitely what I like to listen to. With his guitar playing and excellent vocals, backed by a great array of instuments including banjo, pedal steel and Uillean pipes, Keelaghan has produced a recording that can take it place beside Lightfoot's three; with a bit of an Irish folk flavor, but still very much the same majestic song.
Other tracks that I particularly enjoy are The Way I Feel, Drifters, Go Go Round, For Lovin' Me, Bend In The Water, and Black Day In July. The first, which Lightfoot recorded twice for two successive albums, hoping to make a hit single out of it the second time, was very well done by The Cowboy Junkies. With a contemporary sound, it just might appeal to the younger generation. And, with the others, the sound is reminiscent of Lightfoot's, either in the vocals or the arrangement or both. I tend to gravitate toward those that are closer to the original, although that is just my own personal preference and my "folky" orientation. When it gets too far from the original, I am at least initially put off, although I have to admit that some of the other recordings on this album are beginning to grow on me.
The final track, an original song by the young Canadian singer/songwriter Aengus Finnan and titled simply "Lightfoot", is a fitting tribute to the man whose songwriting inspired this collection - and a couple of generations of musicians. The song, a bluesy nod to Lightfoot for his songs about Canada, mixes images about the country and about Lightfoot himself. In fact, in writing the story of Canada's history in song, Lightfoot has become part of it.
The album is beautifully packaged, and includes a nice insert with observations and comments by each of the artists, in addition to the credits. It is clear that a lot of thought and care went into the production, and the result is a fine album that any Lightfoot fan can enjoy, and that should give those who don't know the depth of his catalogue a good sampling of its breadth and quality.


Amazon.com


Amazon.ca


MP3 album, Amazon.com