As an Amazon Associate I earn from qualifying purchases. I have a similar affiliate relationship with Barnes & Noble, Ticketmaster, StubHub & GoldStar.
Stamp of Approval!
Canada Post To Issue Lightfoot Stamp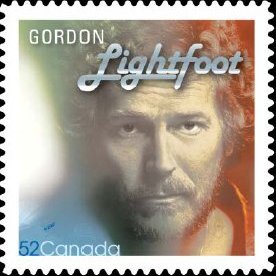 June 13, 2007 -
Canada Post is issuing limited edition stamps to honor Gordon Lightfoot, Anne Murray, Paul Anka and Joni Mitchell.
Canada Post says that the new stamps, honoring international recording artists, are the result of requests from the public. Your emails and letters count!
The new stamps go on sale June 29th. They will be available at Canada Post offices, but also online and by phone (attention: fans outside of Canada).

For more information, visit the Canada Post web site:
Canadian Recording Artists (2007 Issue)
---
IT infrastructure advisory and support services / Web sites / online stores by Valerie Magee of

&nbsp
Darien Cheese Francos Wine Merchants Harlan Estate & Bond Wines Len Goldstein Corporate and Business Law Denver



More music and musicians: Steve Gillette's Songwriter Website, Rick Dougherty, Huxtable, Christensen & Hood, Chad Mitchell Trio (hosting, maillng list, store), David Rea, Robin Batteau (Hosting & Email List), Rob Carlson & Benefit Street (Hosting, Email List, Store), Modern Man (store only; Rob is also the author of The Palatine Ship), Steve Goodman Biography, The Brothers Four, Steve Gillette & Cindy Mangsen (Cat Tales (Cat Songs), Steve Gillette's The Man), Fourtold, Bob Warren, World Folk Music Association (hosting, store), Hamilton Camp, Bob Gibson - Yes I See, Michael Jerling, Michael Jerling's Fool's Hill Music, Mike Quick, Doug Irving, Cathy Cowette, Spare Parts (Waltz Sheet Music, Civil War Music, Tango Music, English Country Dance Music, Old Tango Music CD, store)



©1998-2022 by Valerie Magee Privacy Policy / Legal