Gordon Lightfoot interview: A life in song
Another nice interview ...
---
By Selena Frye on October 6, 2010 - 9:00am.
One of the early stars of the folk movement of the 60s and an icon of 70s folk-rock, Canada's Gordon Lightfoot will visit the Palace Theater in Louisville on October 16. As a songwriter, musician, and singer, Lightfoot has few equals in a career that has spanned decades. His appearance is a unique opportunity to witness the artistry of one of music history's distinctive voices.


Much like his contemporary Bob Dylan, Lightfoot has continued to record fairly consistently since his heydey in the 60s and 70s, but has led a comparatively quiet life, otherwise – never choosing to leave Canada for the brighter spotlight of the States, never cultivating quite the same mystique as Dylan, and hampered in recent years with health issues that included emergency surgery in 2002 for an aortic aneurysm and then a minor stroke in 2006. You know it's never a good sign, when you have to go on the radio to declare yourself not dead, as he had to do after a Twitter hoax hit the Internet this past February.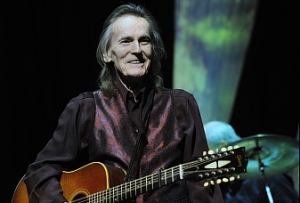 For the record, Lightfoot is alive and well, and living outside of Toronto. When I spoke to him recently by phone, the 71-year old declared himself fully restored to health – a good thing since his touring schedule for the year would pose a challenge for musicians many years his junior. "I love to perform and I really love doing shows. I enjoy the work of putting them together and planning them...and I have an excellent group of musicians." Some of those musicians have been in his band for many years, including guitarist Terry Clements, bassist Rick Haynes, drummer Barry Keane, and keyboard player Mike Heffernan.

We began our conversation by going back to the beginning – and for Gordon Lightfoot, there was never any other path than music. Raised in Orillia, Ontario, not quite a 100 miles north of Toronto, he was encouraged by his parents in early musical endeavors – singing in church, oratorios, and other local groups. He was a seasoned performer before he was even out of his childhood. In fact, he made his Massey Hall debut at the tender age of 12. When I asked about his first attempts at songwriting, he was similarly precocious.

"It happened when I was in grade 12 in high school. I wrote a complete song at that point. It was a topical song, which I took to a publisher, and the publisher told me to leave my name with his secretary, and they would call me. He said to keep up the good work and keep writing. He was impressed by the fact that it was a topical song because most of the songs were about relationships between men and women and songs of a romantic nature." Lightfoot then went away to write and study composition.

After making a name for himself locally by playing in coffee shops and other venues, Lightfoot also built a reputation for his songwriting. "Early Morning Rain" and "For Lovin' Me" were first recorded by fellow Canadians, Ian and Sylvia Tyson; other heavy hitters performing his material were Peter, Paul & Mary, Judy Collins, Richie Havens, Marty Robbins, and Elvis Presley. In 1965, manager Albert Grossman signed him up, adding him to an amazing group that most famously included Dylan (who recently named Lightfoot as one of his own favorite songwriters), along with the Tysons, PP&M, and later Janis Joplin.

Lightfoot said that during those years when folk was really taking off, there were even ads in trade magazines, looking for that kind of material. "But that disappeared as soon as the Beatles came on the scene," he said drily.
Luckily for Lightfoot, who first signed with United Artists (and later Warner Bros.), the major hits were still ahead of him, and he was destined to become a star, not just in Canada, but in the U.S. and around the world. "If You Could Read My Mind" sold a million copies in the States and the album eventually went to #5 in 1971. This, despite no one expecting it to do that well.

I asked him if he was ever able to predict which of his songs would become hits, or if he was always surprised by what really clicked with listeners. "Well, it was so with the song 'Sundown.' When it came out we had a pretty good feeling that that was going to be the single. When it came to 'The Wreck of the Edmund Fitzgerald' that happened totally unexpectedly and without any great fanfare. The record company made it the single." WEF became a hit in 1976 (written about the wreck, which happened in 1975 on Lake Superior), reaching #2 on Billboard and nominated for two Grammy Awards.

Having grown up in a family where Gordon Lightfoot songs were an important part of any guitarist's repertoire (and actually much more so, than Dylan), I have a particular fondness for his songs, which I've heard my uncle play and sing for many years. For that reason, I was particularly happy to get the inside scoop from the man himself on just how the songwriting process worked for something like WEF.

"It came into play when I heard about it on the television set about three and a half hours after it happened. At about 11 o'clock in the evening when I was working at my house, and I was on a roll, and I was working on three or four songs, it just dropped in there...and it got done quickly." He said that the tune he had in mind was similar to an old Irish dirge, a melody from somewhere in his past and the maritime tradition in Canada of the old Irish and Scottish songs that his ancestors had brought over with them.

"Those guitar parts were introduced by my steel player and my guitar player together right at the [recording] session, the first day that we tried that song in the studio. It was the sound of the wind and the water – that's what that song sounds like. Pee Wee Charles and Terry Clements – they invented those lines. I had the chords, they came with the lines." One of the endearing qualities about Lightfoot is his insistience on giving credit where it is due, and while he has great confidence and respect for his own material, he likes to credit his longtime collaborators for their contributions to the complete work of every song.

Another cool thing about Lightfoot is that he isn't just resting on his laurels. When I asked if there was new music on the horizon, and specifically if there were people he might be keen to collaborate with, he hinted rather mysteriously that it "might be just around the corner."

As our time wound down, of course, I had to ask Lightfoot who most influenced and inspired him when he was first starting out. While some of the names were fairly predictable, a few were a little more surprising. For example, the first name he mentioned was singer Judy Collins, then Dylan, Van Morrison, James Taylor, and a few others like PP&M, the Tysons, and Jerry Jeff Walker.

Nostalgia aside, Lightfoot is still very interested in new artists: "We have a community here in Toronto of singer-songwriters trying to break out of the mold and go somewhere. I get to see them all the time because I go to the places where they perform. Occasionally I'll spot one who's really good...and the one who comes to mind right now is Liam Titcomb. You'll have to check that one out." (I did – see the link.) He admitted, kiddingly, that getting out to shows is sometimes a chore, however: "I hate going to concerts because I hate parking my car."
One of my very last questions to Lightfoot was asking him to comment on the many milestones, awards, and honors that have come his way. In addition to his numerous awards for his music, he is a member of Canada's Music Hall of Fame, has been a celebrity captain of the Toronto Maple Leafs in their 75th Anniversary Season 1991-92, and was named a Companion of the Order of Canada, the country's highest civilian honor. What, I asked, had come to mean the most to him? His answer was typically humble and marked by sly humor. "I was inducted into and am a member of the Turtle Society in Liverpool, England." Stumped, I thought it might be some archaic, but highly-select club of elite artists of which I'd never heard. When I innocently asked what it was, Lightfoot replied with a hearty laugh, "I have no idea, but I'm a member and I have the little turtle to prove it."

You can catch Gordon Lightfoot's show on Friday, October 16 , 8:00 p.m., at the Louisville Palace, 625 S. 4th Street. Tickets range from $52.50 to $32.50 and are available through LiveNation and the Palace Box Office. Below, enjoy a more recent performance of "The Wreck of the Edmund Fitzgerald":


The above footage is from the Gordon Lightfoot: Live In Reno DVD (read more/view another video), recorded April, 2000. (Val)

---
Published with permission from Zach Everson, Editor-in-chief Louisville.com. Link to story at Louisville.com