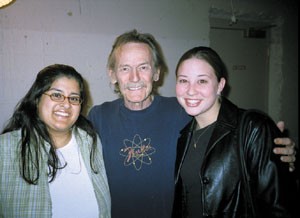 Two Monticello high school seniors, Megan Smith (left) and Jessica Rensberger, introduced themselves to Gordon Lightfoot after Thursday's Minneapolis concert. Jessica related that Lightfoot's "Beautiful" was sung at her parents' wedding.
May 9, 2002
The first time Onn Khauv heard Gordon Lightfoot's "The Wreck of the Edmund Fitzgerald," he had escaped his native Cambodia and was living in a refugee camp in Thailand.
Khauv was just 18, his young life already filled with a devastating past. His future was uncertain. He had no way of knowing he'd land in Wisconsin, and later Minnesota.
Nor did he know 27 years later he'd spend an evening with Lightfoot. Khauv's story–of his family's escape from the Khmer Rouge and its parallels with the movie, "The Killing Fields"–has been told on these pages before. What I didn't know until hours before Thursday's Lightfoot concert in Minneapolis is that Khauv heard Lightfoot long before relocating in the United States.
This story has three settings–Thailand, Monticello and the Orpheum Theater. A Buddhist temple, established as a makeshift refugee camp for fleeing Cambodians, is where Khauv took shelter in 1975. He's uncertain who operated the camp–it may have been Americans or even a fellow Canadian of Lightfoot's. He's certain whoever chose the music had an incessant love of the singer and specifically "Edmund Fitzgerald."
Khauv spoke little English. But the repeated playing led him to learn lines from the song about the November 1975 shipwreck in Lake Superior.
"I had no idea who was singing the music," Khauv said Monday at the motel-restaurant (Best Western Silver Fox–Chin Yuen) he owns with his wife, Marianna. "But they played it a lot–it drove me crazy. There was no way you could get away from that song."
Khauv was at the temple for three to four months. He thought re-settlement might take him to France or Australia. Instead, at age 19 in December 1976, he landed in Milwaukee–in a state which he had familiarity, in name anyway, from a Lightfoot line ("The ship was the pride of the American side coming back from some mill in Wisconsin").
In the years since, Khauv has married, is raising a family, has moved to Minnesota, and for more than a decade has been a business-owner in Monticello. Occasionally, when hearing Lightfoot songs on the radio (including "If You Could Read My Mind" and "Rainy Day People"), he recalls his refugee camp days.
Back in March, Onn won two tickets to the May 2 concert in a Lions Club-Lightfoot raffle I concocted. I invited them to join our group, numbering 14, to the concert. Long before the event, I bought him Lightfoot's newest CD, a "Complete Greatest Hits" compilation released last month that would help prepare Marianna and him for the concert.
Again Khauv listened to Lightfoot, but this time by choice. Days in the refugee camp–his tent, the forced stays, fishing on a river–were recalled. "Music is a time machine that we have," Khauv believes. "It really brought back a lot of memories–some good, some bad–that I cherish."
Added Khauv: "I was so excited when I listened to the CD. I was singing along. Marianna wondered: What's going on here?…Probably you didn't know it would touch me."
I learned of Khauv's early liaison with Lightfoot just hours before Thursday's event. I assured him that the songs he heard in his youth would be sung.
Khauv's wasn't the only Lightfoot anecdote revealed before his opening. I had invited two MHS seniors/Times' student workers– our daughter, Megan, and Jessica Rensberger. I should also have invited Jessica's parents, Lee and Deb. When they were married in 1980, they had Lightfoot's "Beautiful" sung at their wedding.
Jessica related that directly to Lightfoot in a back-stage meeting after the concert. I also had the chance to tell him that the father-daughter dance at our daughter Andrea's wedding two years ago was her surprise selection, "If You Could Read My Mind."
Both had been among Thursday's 27-song set list splendidly performed. Other hits sung included "Ribbon of Darkness," "Carefree Highway," "Sundown" and "Canadian Railroad Trilogy." His encore was "Early Morning Rain." And, of course, "Edmund Fitzgerald" is the highlight of any Lightfoot concert, perhaps more so in states like ours that border Lake Superior. For Khauv, however, it brought memories beyond those of most everyone in the nearly sold-out concert hall. The song is legendary–for Lightfoot and the songwriter's reputation, and for Onn, whose life was interrupted by war and years later would find him at a memorable concert.
"Superior, they said, never gives up her dead when the gales of November came early!" Lightfoot closed.
At the end of his row, Khauv honored Lightfoot with a one-person standing ovation.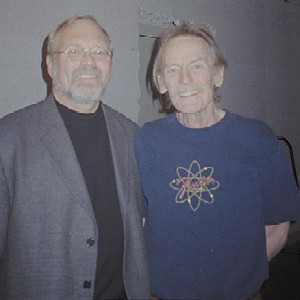 The author with Lightfoot after the concert.
---
Don Q. Smith is Editor and Publisher of The Monticello Times. He is a past president of the Minnesota Newspaper Association, was charter president of the Minnesota Newspaper Foundation and served six years on the Minnesota News Council. In Monticello, he is a member of the Rotary Club and Chamber of Commerce; he formerly served on the Monticello United Way board and Industrial Development Committee. The Times is a seven-time winner of the Mills Trophy for Minnesota's top weekly newspaper.
This interview is copyrighted by Don Q. Smith and The Monticello Times. Any publication or reproduction is strictly prohibited unless permission is obtained from the copyright holder.