As an Amazon Associate I earn from qualifying purchases. I have a similar affiliate relationship with Barnes & Noble, Ticketmaster, StubHub & GoldStar.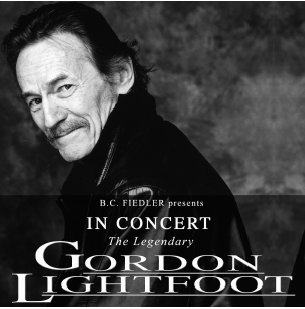 Toronto, ON, February 20, 2006 - For the first time in seven years, Canada's most beloved cultural icon Gordon Lightfoot will undertake a nationwide tour, bringing understated yet time-defying style and legendary hits to the country's most prestigious performing arts venues including The Centre For the Performing Arts in Vancouver, the Jubilee Auditoriums in Alberta; the National Arts Centre and Place Des Arts.
The country's most famous troubadour will kick off his national tour on October 3rd in Vancouver, traveling east to Montreal with performances slated for Edmonton, Calgary, Saskatoon, Regina, Winnipeg, Thunder Bay, Ottawa, and will make a final three-night stop at Massey Hall in Toronto.
Regarding the upcoming tour, the 67-year-old folk-music legend says: "The pure pleasure of playing live never wears off, even after 40 years in the business," says the 67-year-old folk-music legend. "I am overjoyed to once again tour this great country, sharing my music in person with some of my favourite people in 11 cities in 6 different provinces."
Born November 17, 1938 in Orillia, Ontario Gordon Lightfoot studied at Los Angeles' Westlake College of Music. He returned to Canada in the early 1960s and began performing at the "Riverboat" during Toronto's fabled folk scene. In 1966, his debut album Lightfoot! was released. Tracks such as For Lovin' Me, Early Mornin' Rain, Steel Rail Blues and Ribbon of Darkness brought him international recognition as a songwriter. Cover versions of his songs were recorded by artists such as Bob Dylan, Johnny Cash and Elvis Presley, until 1971 when his own version of If You Could Read My Mind became a Top Ten hit. In 1974, his classic single, Sundown, went to No.1 on the American charts, followed two years later by Wreck of the Edmund Fitzgerald, inspired by a Newsweek magazine article; it reached No. 2 on the U.S. Billboard charts. By the 1990s he was mostly touring, giving just fifty concerts a year by 1998, mainly in North America, while he released two albums in the period. In 2004, he released his 20th album Harmony, appeared on Canadian Idol, and toured in 2005.
Mr. Lightfoot has won 15 Juno Awards and been nominated for 5 Grammy Awards. He was inducted into the Canadian Music Hall of Fame in 1986 and the Canadian Country Music Hall Of Fame in 2001. In May 2003 was made a Companion of the Order of Canada and is also a member of the Order of Ontario, and in 2004 was inducted into the Canadian Songwriters Hall of Fame.
---
IT infrastructure advisory and support services / Web sites / online stores by Valerie Magee of

&nbsp
Darien Cheese Francos Wine Merchants Harlan Estate & Bond Wines Len Goldstein Corporate and Business Law Denver



More music and musicians: Steve Gillette's Songwriter Website, Rick Dougherty, Huxtable, Christensen & Hood, Chad Mitchell Trio (hosting, maillng list, store), David Rea, Robin Batteau (Hosting & Email List), Rob Carlson & Benefit Street (Hosting, Email List, Store), Modern Man (store only; Rob is also the author of The Palatine Ship), Steve Goodman Biography, The Brothers Four, Steve Gillette & Cindy Mangsen (Cat Tales (Cat Songs), Steve Gillette's The Man), Fourtold, Bob Warren, World Folk Music Association (hosting, store), Hamilton Camp, Bob Gibson - Yes I See, Michael Jerling, Michael Jerling's Fool's Hill Music, Mike Quick, Doug Irving, Cathy Cowette, Spare Parts (Waltz Sheet Music, Civil War Music, Tango Music, English Country Dance Music, Old Tango Music CD, store)



©1998-2022 by Valerie Magee Privacy Policy / Legal