As an Amazon Associate I earn from qualifying purchases. I have a similar affiliate relationship with Barnes & Noble, Ticketmaster, StubHub & GoldStar.
Ballad of Yarmouth Castle
"The sinking ship moaned like the cry of a child" "Death of a Cruise Ship" Life Magazine 11/26/1965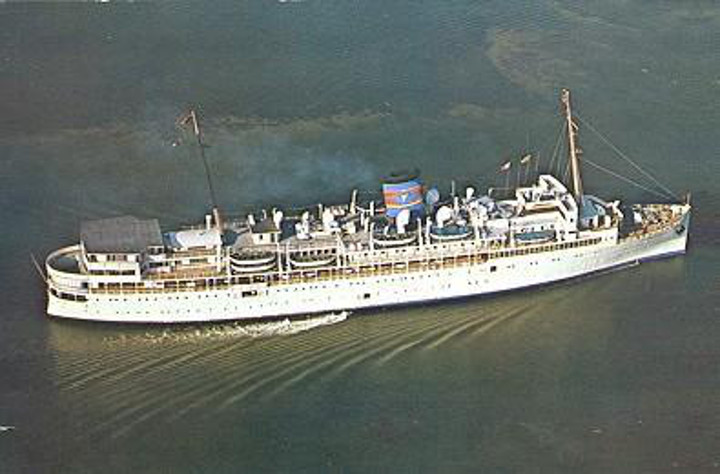 Photo of the Yarmouth Castle
"Ballad of Yarmouth Castle," by Gordon Lightfoot, is the other true shipwreck song. It remains largely unknown except to devoted Lightfoot fans, and was never recorded in the studio but released only on his 1969 live album Sunday Concert. On CD, it is available on the German import "Sunday Concert Plus" from Bear Family, on the UK import "Early Lightfoot/Sunday Concert" from BGO records, and also on the Canadian release "The Original Lightfoot." I consider the first of these to be the best mastering, and sell it in my store.
Like his famous shipwreck song, "Wreck of the Edmund Fitzgerald," this song is about a true event, written based on contemporanoeus press reports. In the case of "Yarmouth Castle," the principle inspiration was an article in Life Magazine (issue of November 26, 1965). Unlike the case with "Wreck," this shipwreck had survivors who could tell the story, evidence of outdated construction standards and indadequate maintenance, and stories of both heroism and cowardice.
This shipwreck occured 10 years before the Edmund Fitzgerald, almost to the day (November 13th here; November 10th for the Fitzgerald). In both songs Lightfoot combines music and lyrics to tell a moving story of a tragedy at sea in a manner that is second to none.
The entire collection of Life Magazine issues is available online at Google Books, for free access. If you don't have the magazine, you can read articles online here. Use the magnifying glass in the top left to increase the font size; scroll using the < > icons in the top row of navigation toward the right.
Find the song on:
Ballad Of Yarmouth Castle, ©1969 by Gordon Lightfoot


Well, it's four o'clock in the afternoon
And the anchors have been weighed
From Miami to Nassau
She's bound across the waves

She'll be headin' south through Biscayne Bay
Into the open sea
Yarmouth Castle, she's a-dyin' and don't know it

Now the many years she's been to sea
She's seen the better times
She gives a groan of protest
As they cast away her lines

And the grumble of her engines
And the rust along her spine
Tells the Castle she's too old to be sailin'

But the sands run out within her heart
A tiny spark glows red
It smoulders through the evening
There's laughter overhead

Now the dinner's served and the cards are dealt
And the drinks are passed around
Deep within the fire starts a-burnin'

Now it's midnight on the open sea
And the moon is shining bright
Some people join the party 
And others say good-night

There's many who are sleeping now
It's been a busy day
And a tiny wisp of smoke is a-risin'

"Oh Lord," she groans, "I'm burning!"
"Let someone understand!"
But her silent plea is wasted
In the playin' of the band

Everybody's dancin' on her deck
And they're havin' such a time
And a voice says
"Shut up and deal, I'm losin'"

Deep within the Yarmouth Castle
The fire begins to glow
It leaps into the hallways 
And climbs and twists and grows

And the paint she wore to keep her young
Oh Lord, how well it burns
And soon that old fire is a-ragin'

Up beneath the bridge it's climbin' fast
the captain stands aloft
He calls up to the boatswain, says
"Boatswain, we are lost"

For the ragged hoses in the racks
No pressure do they hold
And the people down below 
Will soon be dyin'

All amidships, oh she's blazin' now
It's spreadin' fore and aft
The people are a-scramblin' 
As the fire blocks their path

The evil smoke surrounds them
And they're fallin' in their tracks
And the captain in his lifeboat is a-leavin'

Oh then the ship, Bahama Star 
Comes steamin' through the night
She sees the Castle blazin'
And 'tis a terrible sight

"Jump down, jump down!" the captain cries
"We'll save you if we can!"
Then the paint on his funnels is a-fryin'

"God help the ones who sleep below
And cannot find the way!
Thank God for those we rescue
Upon this awful day."

Now the heroes, they are many 
But the times are growin' slim
And now from stern to bow 
She's a-blazin'

Oh the Yarmouth Castle's moanin'
She's cryin' like a child
You can hear her if you listen 
Above the roar so wild

Is she cryin' for the ones who lie
Within her molten sides?
Or cryin' for herself, I'm a-wonderin'

But the livin' soon were rescued
The ones who lived to tell
From the Star they watched her
As she died there in the swells

Like a toy ship on a mill pond
She burned all through the night
Then slipped beneath the waves
In the mornin'  


Song: Ballad of Yarmouth Castle
---
IT infrastructure advisory and support services / Web sites / online stores by Valerie Magee of

&nbsp
Darien Cheese Francos Wine Merchants Harlan Estate & Bond Wines Len Goldstein Corporate and Business Law Denver


Another Folk Artist: Bob Dylan
Bob Dylan set on Vinyl & CD
Springtime In New York: The Bootleg Series Vol. 16 1980-1985 #ad

Check here for Bob Dylan tickets listed onTicketmaster.com (US) Ticketmaster.ca (CA)

Check for Bob Dylan resale tickets on

StubHub

. Prices may exceed face value.

More music and musicians: Steve Gillette's Songwriter Website, Rick Dougherty, Huxtable, Christensen & Hood, Chad Mitchell Trio (hosting, maillng list, store), David Rea, Robin Batteau (Hosting & Email List), Rob Carlson & Benefit Street (Hosting, Email List, Store), Modern Man (store only; Rob is also the author of The Palatine Ship), Steve Goodman Biography, The Brothers Four, Steve Gillette & Cindy Mangsen (Cat Tales (Cat Songs), Steve Gillette's The Man), Fourtold, Bob Warren, World Folk Music Association (hosting, store), Hamilton Camp, Bob Gibson - Yes I See, Michael Jerling, Michael Jerling's Fool's Hill Music, Mike Quick, Doug Irving, Cathy Cowette, Spare Parts (Waltz Sheet Music, Civil War Music, Tango Music, English Country Dance Music, Old Tango Music CD, store)



©1998-2022 by Valerie Magee Privacy Policy / Legal