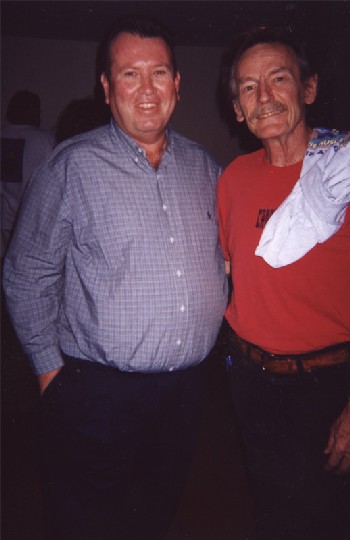 The author, at left, with GL after the concert
By Don Ketchum, The Arizona Republic
August 27, 2000
If hockey great Wayne Gretzky can bring his magic to the desert, there's no reason why fellow Canadian Gordon Lightfoot can't do the same.
The folksinger-songwriter will skate into Arizona State University's Grady Gammage Memorial Auditorium on Wednesday at 7:30 p.m., with 40 years of love ballads, odes and other lyrics to evoke introspection.
He will be joined by his longtime circle of friends - guitarist Terry Clements, bassist Rick Haynes, keyboardist Mike Heffernan and percussionist Barry Keane.
During a recent telephone interview from his Toronto home, Lightfoot gave his take on a number of subjects that keep him busier than ever at age 61.
At the top of his list is family, which includes his wife, Elizabeth, 11-year-old son, Miles, and 6-year-old daughter, Meredith. He also has children from a previous marriage and grandchildren.
The days clouded by alcohol are gone, and his voice had an air of contentment as he talked about "looking after" the kids and continuing his work in the new home they moved into last year.
"The workspace ... I like it," he says. "It's right in the middle of things and is less lonely that way. The other place was completely removed. Sometimes it's hard to concentrate, but that's all right. I've done some of my best work in the morning, and I'm trying to slide back into that method."
Lightfoot figures that he has at least one more collection of original material to release - which would be the 20th of his career - but does not have a timetable.
"It could be two or three years," he said. "The thing that matters is that it sounds good."
He admits it would be nice to add another hit to the ones that have climbed the charts over the years, such as Early Morning Rain, Canadian Railroad Trilogy, If You Could Read My Mind, Sundown and The Wreck of the Edmund Fitzgerald. Yet he continues to relish the opportunity to perform in front of loyal followers.
He also is getting positive vibes about a concert videotaped April 19 in Reno that will be broadcast by PBS during its affiliates' pledge drives later this year. Lightfoot has been mixing and remixing the soundtrack.
After writing a song long ago about a traveling troubadour who was forced to trade off his prized Martin guitar to make ends meet - 10 Degrees and Getting Colder - Lightfoot recently was honored when the Martin company issued 61 limited-edition signature models. He will receive one, and proceeds from the sales will go to the Gordon Lightfoot Scholarship Fund at the Great Lakes Maritime Academy at Northwest Michigan College. The fund will help freshwater pilots learn ways to avoid similar fates as the Fitzgerald, which sank in Lake Superior during a storm in November 1975.
Lightfoot has played several venues around Arizona, but Gammage is perhaps his favorite. He fondly recalled the genesis here of his hit Carefree Highway, and he said the band is enthusiastic about returning. It will be hot, and band members would prefer to avoid a repeat of one trip between the airport and their Tempe hotel, when the rental car overheated. Bassist Haynes was sent to acquire coolant.
Lightfoot began to chuckle, then broke into full-scale laughter:
"If it happens again, there will be no problem. ... Rick is a mechanic, works with his son on stock cars, so we'll be in good hands."
Perhaps Gretzky will be on duty in the Phoenix Coyotes' front office by then. Lightfoot admits he is a fan of the Great One, of the Toronto Maple Leafs and of hockey in general.
"It will be interesting to see what he does," Lightfoot said.
He has an unfinished song, Athabasca Lady, that would be a perfect fit here:
"She's my Athabasca lady from the town of Edmonton; though Gretzky is her hero, I am still her Number One."
---
Don Ketchum is a sportswriter for the Arizona Republic who has been a huge fan of Gord's since the early 1970s. In the 1990s, he branched out and began interviewing and writing about Gord. This is his most recent article.

©2000 The Arizona Republic